Charlotte Burn
Department of Zoology, University of Oxford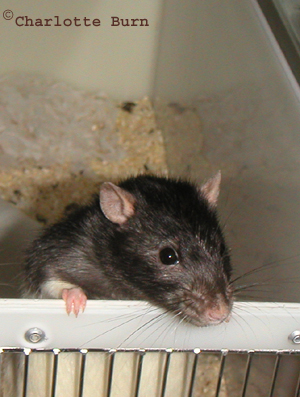 I am interested in
animal sensory perception
, their
behaviour
, the
physiology of emotions
and
animal welfare
.
During my
Ph.D.
, I have aimed to improve the conditions that
laboratory rats
are kept in, taking into account their sensory perception and how it differs from our own. Rats are strongly biased towards olfaction, using scents for a variety of functions including assessing, communicating with, and recognising other rats. I aimed to find the balance between the olfactory disruption caused by frequent
cage-cleaning
,
versus
the health risks associated with too little cleaning. I also assessed other aspects of rats' husbandry and
handling
, and how their
perception
of the laboratory environment affects their health and welfare. This work was funded by the
Animal Procedures Committee
. My supervisor is
Dr Georgia Mason
, Canada Research Chair in (Food) Animal Welfare at the
University of Guelph
, while I am based within the
Animal Behaviour Research Group
at the University of Oxford.
I will soon take up a post-doctoral position investigating the welfare of equines (horses, mules and donkeys) in developing countries at the University of Bristol. Previously, I completed an M.Sc. in Applied Animal Behaviour and Welfare at the University of Edinburgh, where my dissertation was on coping and aggression in pigs, and a B.A. in Biological Sciences at the University of Oxford.

Publications:
Burn C. C., Day M. J., Peters A. & Mason G. J. (in press). Long-term effects of cage-cleaning frequency and bedding type on laboratory rat health, welfare, and handleability: a cross-laboratory study. Laboratory Animals
Burn C. C., Peters A. & Mason G. J. (in press). Acute effects of cage-cleaning at different frequencies on laboratory rat behaviour and welfare. Animal Welfare
Hawkins P., Nicholson J., Burn C. C., et al. (2005) Report of the 2004 RSPCA/UFAW Rodent Welfare Group meeting. Animal Technology and Welfare 4: 79-89
Burn C. C. and Mason G. J. (2005) Absorbencies of six different rodent beddings: commercially advertised absorbencies are potentially misleading. Laboratory Animals, 39: 68-74
D'Eath, R. B. & Burn, C. C. (2002). Individual differences in behaviour: A test of 'coping style' does not predict resident-intruder aggressiveness in pigs. Behaviour, 139: 1175-1194.
Last updated: 10th Nov 2005