Owen Massey McKnight
Librarian
Jesus College, University of Oxford
---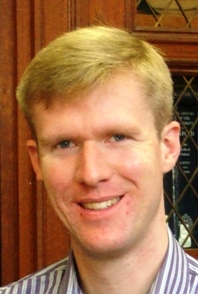 I am the Librarian of Jesus College, Oxford, responsible for the day-to-day administration of the Meyricke (undergraduate) and Celtic Libraries as well as the historic Fellows' Library. I am the current Chair of the Committee of College Librarians and, in that role, one of the Curators of the University Libraries.
In Oxford, I previously worked for Worcester College and for the Early Printed Books Project in Christ Church. I have also worked in libraries in Cambridge, in London, and for the National Trust. My recent committee work includes CatSIG in Oxford (2008-2011), the UK Bibliographic Standards Committee of the CILIP Rare Books and Special Collections Group (2008-2011) and the Council of the Oxford Bibliographical Society (2009-2012).
(My name was formerly Owen Massey; when I married in January 2009, I made Massey my new middle name, so I'm Owen McKnight for short.)
Here are some photographs from a course on letterpress printing in the Bodleian Library. I have compiled information about bibliographical fingerprints and a directory of broadly useful websites on early printed books [local copy]. I have made occasional contributions to library newsletters. I also offer, without warranty, a selection of Oxford reading lists.
---
Owen Massey McKnight <owen.mcknight@jesus.ox.ac.uk> or LinkedIn

Jesus College, Turl Street, Oxford OX1 3DW