The Chemistry Research Laboratory (CRL, ariel view shown above) lies at the heart of Oxford University's Science Area and is within 5
minutes walk of the city centre. It houses all of the synthetic research groups in inorganic and organic chemistry. It also has its own
in-house café (pictured), state of the art seminar and meeting rooms and is air conditioned throughout..
Two views of one of our labs. Between them they have 24m of fume hood space. They also house high vacuum sublimation equipment, our three glove boxes, our polymerisation facilties, GPC apparatus and other group equipment. Three high field NMR spectrometers for inorganic chemistry and other major intruments (e.g routine and MALDI-ToF mass spec) and MBraun Grubbs-style solvent drying columns are located nearby.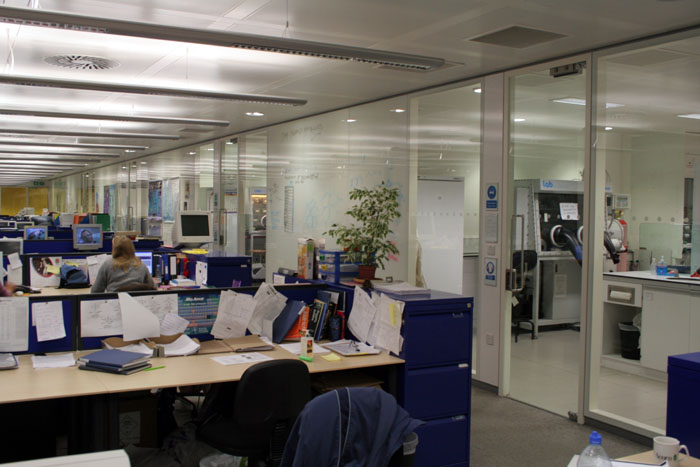 The group's office area is immediately adjacent to the labs and
is equipped with a range of PCs, the group server, a laser printer
and a colour printer-photocopier.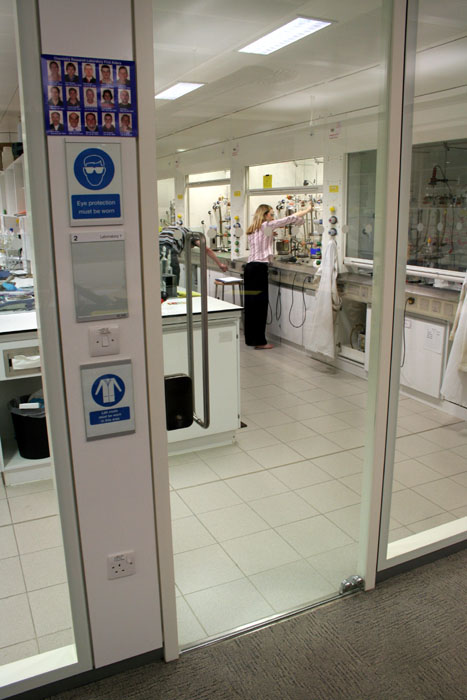 One of our labs viewed from the office area.