Research opportunities in the Mountford Group
The Mountford Group is an international mixture of postdoctoral researchers, PhD and Oxford Masters (Part II) students, and visiting academic fellows, and our laboratory facilities are second to none. A range of countries have been represented in the group: UK, Canada, USA, Ireland, France, Germany, PR China, Malaysia, Thailand, Russia, Australia, Mexico, Brunei, Japan. Ten former group members have gone on to their own university faculty or equivalent (e.g. French CNRS, Royal Society URF) positions in the UK, North America, Europe, Russia or China. Other former members hold positions in industry, either in the UK or abroad, or other professional employment. Many PhD students go on to postdoctoral positions with leading overseas research groups after completing their thesis.
Specific details are given below. Please contact Philip Mountford if you have any questions (philip.mountford@chem.ox.ac.uk).
Postdoctoral researchers. Prospective postdoctoral researchers or academic visitors are invited to contact Philip Mountford directly with general enquiries. In addition to postdoctoral research funded by grants to the Mountford Group itself, we often host postdocs and senior associates who have secured their own funding (e.g., NSERC of Canada, Marie Curie Fellowship, China Scholar Council, DFG).
PhD students. The group accepts on average 2 PhD (DPhil) students each year. Funding for prospective UK students can be obtained from the Chemistry Department or by grants obtained on the student's behalf by Philip Mountford. Prospective international students should seek funding either from Scholarships administered by the University or through scholarship programs operating in their home countries (e.g. Government Scholarships, Rhodes Scholarships, Croucher Foundation awards, China Scholar Council). You can search for Oxford funding possibilities here.
All PhD prospective students should consult the Chemistry Department's Graduate Web Pages and contact Philip as soon as possible to discuss possible sources of funding and to arrange (if possible) a visit to Oxford. International students should note the important closing dates for University Scholarship applications.
Part II students. The group accepts on average 3 Part II students each year. The projects centre around organometallic synthesis and stoichiometric and catalytic chemistry. Part II students work alongside an experienced PhD student or a postdoctoral researcher who will give them day to day guidance and support, backed up by regular meetings with Philip. Our Part II projects normally result in one or more publications and several Part II students from the Group have also received Thesis Prizes. In most years one or two Part II students stay on for their PhD. The following recent papers were based on Part II student research projects (the relevant names are underlined).
"Synthesis and rac-lactide ring-opening polymerisation studies of new alkaline earth tetrahydroborate complexes." R. A. Collins, J. Unruangsri and P. Mountford, Dalton Trans., in the press. Invited contribution for a Special Issue on metal borane and borohydride chemistry. [link to journal]

"A remarkable switch from a diamination to a hydrohydrazination catalyst and observation of an unprecedented catalyst resting state." A. D. Schwarz, C. S. Onn and P. Mountford, Angew. Chem. Int. Ed., in the press. [link to journal]

"M=N cycloaddition and N-N insertion in the reactions of titanium hydrazido compounds with alkynes: a combined experimental and computational study". A. D. Schofield, A. Nova, J. D. Selby, C. D. Manley, A. D. Schwarz, E. Clot and P. Mountford, J. Am. Chem. Soc., 2010, 132, 10484-10497. [link to journal]. Thesis prize winning work.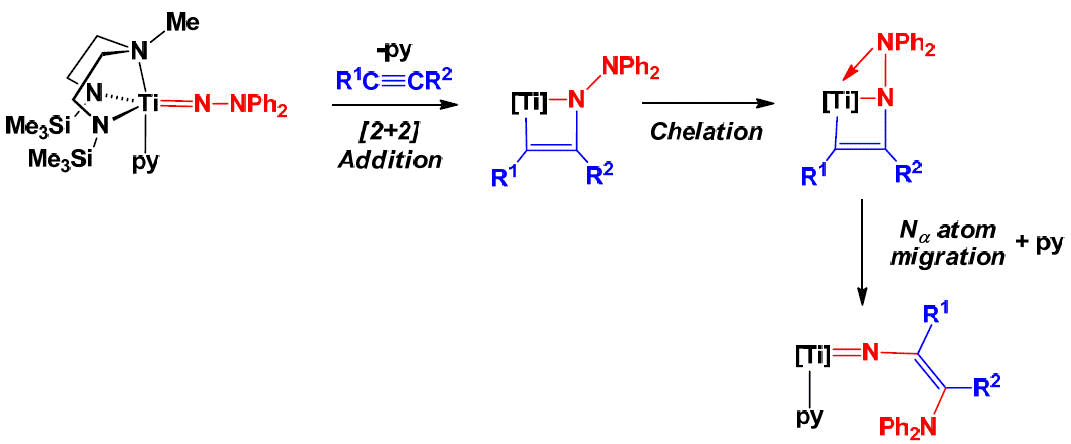 "Synthesis and ethylene trimerisation capability of new chromium(II) and chromium(III) heteroscorpionate complexes". A. F. R. Kilpatrick, S. V. Kulangara, M. G. Cushion, R. Duchateau, and P. Mountford. Dalton Trans., 2010, 39, 3653-3664. [link to journal]

"Sodium, magnesium and zinc complexes of mono(phenolate) heteroscorpionate ligands." A. D. Schofield, M. Luna Barros, M. G. Cushion, A. D. Schwarz and P. Mountford, Dalton Trans., 2009, 85-96. [link to journal] Thesis prize winning work.