---
Virtual Seminars for Teaching Literature
First World War Poetry on the Web
Stuart Lee
University of Oxford
stuart.lee@oucs.ox.ac.uk
The project will deliver four web-based tutorials centred on teaching various aspects of the poetry of the First World War. The tutorials on offer will cover:
1) An Introduction to World War One Poetry (sample poems from Owen, Brooke, Sassoon, Thomas, and others, with an opportunity for users to provide their own comments).
2) Isaac Rosenberg's 'Break of Day in the Trenches' (a close reading of the poem with additional information on Rosenberg and the historical context of the material). For further information on this see Computers and Texts 10 (December 1995, pp. 3-6), and http://info.ox.ac.uk/oucs/humanities/rose/.
3) The Manuscripts of 'Dulce et Decorum est' (full colour images of all four manuscripts containing the poem, with the opportunity to create your own edition - see fig. 1).
4) A Concordance to the Poems of Wilfred Owen (an interactive search tool which allows users to create their own concordances of the poems and to search for particular terms and phrases).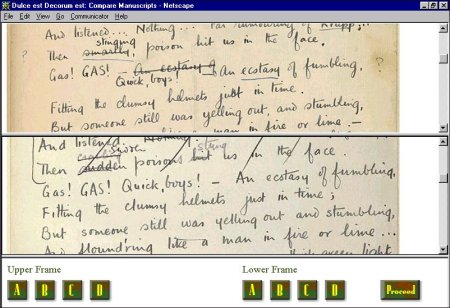 | | |
| --- | --- |
| Fig.1. Towards an edition of 'Dulce et Decorum est', part of the tutorial on the creation of a critical edition | |
Digital Archive of Wilfred Owen Manuscripts
In addition to the above users will be able to explore and look at the following material contained in an online archive:
1) Colour images of all the manuscripts containing the poems of Wilfred Owen written during his war service. These amount to around 360 images in total and are drawn from the collections at the English Faculty Library (Oxford), the British Library, the collection at the University of Texas (Austin), and Colombia University Library. In addition to the images available free of charge (72 dpi, JPEG images via the Web), high-quality images (24-bit colour, 600 dpi, TIFF) will be stored at Oxford for perpetuity to ensure the (digital) preservation of these manuscripts for future generations.
2) Colour images of the 18 issues of The Hydra held at Oxford (Owen's personal collection).
3) A selection of photographs of Owen and letters by him.
4) Images and film clips of Ors and the Somme.
5) Images, audio, and film clips (some original, some drawn from the archives at the Imperial War Museum) of life on the Western Front, Ypres, Vimy Ridge, and other major battlefields.
Users will be able to browse this archive via appropriate categories, but more importantly will be able to search the documents and create annotated paths through the collection to be used later (e.g. for online lecture notes, or essays) or for others to follow (e.g. as student projects).
Access
The tutorials will be available by the start of the next academic year and it is hoped that the digital archive will be available for beta-testing in the spring of 1998. Access to all of this will be free of charge and via the Web.
Evaluation
The project is actively looking for academics who would be willing to evaluate the material presented, and who would be willing to use it in their teaching. It is hoped that, in conjunction with the CTI Centre for Textual Studies, some institutions could be targeted for more formal evaluations which could be presented to the wider community as case studies. Furthermore, the project is looking to cooperate with similar projects and exchange information where appropriate.
Further Details
The project is being directed by Dr Stuart Lee, and the Project Officer is Mr Paul Groves. It began in October 1996 and will finish in October 1998. As well as receiving support from Oxford University and the Higher Education Funding Councils, it also has an Advisory Group consisting of: Jane Carmichael (Imperial War Museum), Michael Fraser (CTI Centre for Textual Studies), Richard Gartner (Bodleian Library, Oxford), Barrie Paskins (War Studies, King's College London), Michael Popham (Oxford Text Archive), and Jon Stallworthy (English Faculty, Oxford University).
Further information about this project can be found on the World Wide Web at http://info.ox.ac.uk/jtap/ or by contacting Dr Stuart Lee/Mr Paul Groves, Oxford University Computing Services,13 Banbury Road, Oxford, OX2 6NN. Tel: 01865 283403.
Email: jtap@oucs.ox.ac.uk
---
[Table of Contents] [Letter to the Editor]
---
Computers & Texts 15 (1997), p.25 Not to be republished in any form without the author's permission.

HTML Author: Sarah Porter
Document Created: 10 September 1997
Document Modified:

The URL of this document is http://info.ox.ac.uk/ctitext/publish/comtxt/ct15/lee.html