---
First Impressions: EndNote 3
Christopher Stephens
Humanities Computing Unit
University of Oxford
christopher.stephens@oucs.ox.ac.uk
Platform: Windows & Macintosh
Requirements: PC running Windows 3.1 or Win95+; at least 8MB RAM. Apple Mac running System 7.0 or higher and 4 MB RAM.
Available from: Cherwell Scientific Publishing, The Magdalen Centre, Oxford Science Park, Oxford OX4 4GA. Tel: 01865 784 800.
Email: sales@cherwell.com. URL: http://www.cherwell.com/. The publisher, Niles Software Inc., has an extensive Web site at http://www.niles.com/.
Price: £225 +VAT (academic discounts are frequently available).
In preparation for writing a full, comparative review for Computers & Texts 18 of the various software packages available for managing bibliographic references, I have been looking at the new version of EndNote by Niles Software (version 3.0.1) available for both Mac and PC. This version includes some significant developments and it seemed useful to include a short overview here before a more extensive evaluation appears in the next issue.
The interface is much the same as for earlier versions of EndNote. This is a Windows95 program and includes the standard windows menus for file management, edit, help and so on, as well as EndNote specific menus, such as the references menu for functions like adding new references, sorting, and searching.
New references are added by choosing the reference type from a drop down list and filling in the details in the appropriate fields. Reference types range from journal article, book, or book chapter to thesis, report or patent. Significantly, there are also reference types for electronic source, computer program, and audio-visual material. Most of the reference types also include a URL field to reference online material. Up to four fields can be customised by the user.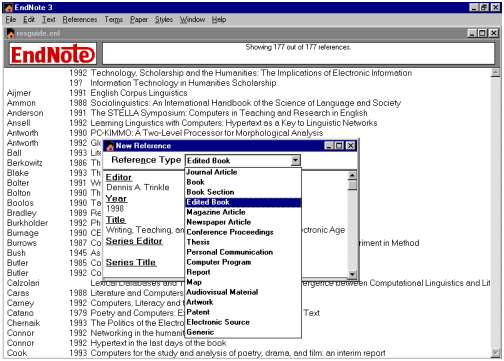 Fig. 1. Adding a new reference in EndNote 3.0
As you would expect the new version allows you to store your references in a neutral format and then output your bibliography in any of a number of styles, including MLA, Chicago, and a host of scientific journal styles. Fortunately, it is also possible to define your own styles and additional styles are made available on the the publisher's Web site.
A strength of EndNote is the possibilities offered through integration with popular word processors and this continues to apply in this version. The installation adds EndNote commands to Word 97, Word 6.0, and WordPerfect. Amongst other things these tools allow one to insert a place-holder for EndNote references which can later be scanned by the program and converted to the in-text citation and bibliographic style of your choosing.
These features are all, more or less, present in the earlier versions of EndNote. What makes this version stand out, however, is the new 'connect' feature. It is now possible to search remote library databases from within EndNote running on a machine connected to the Internet. Once connected you can search the catalogue, mark files of interest, and download the full references directly into EndNote. The connect feature relies on the library catalogue being compliant with the Z39.50 protocol. This includes most of the big research libraries as well as COPAC and RLG. EndNote uses its own special connect files to access these databases and, again, the package comes complete with connect files for many different libraries and collections. It is also possible to create your own connect file for any Z39.50 server. We have acquired locally produced connect files for COPAC and OLIS (the Oxford union of library catalogues). The production of these files requires fairly basic knowledge of the library server's configuration. A list of Z39.50 targets in the UK is maintained by UKOLN at http://www.ukoln.ac.uk/dlis/zdir/. Further information about EndNote's Z39.50 capabilities as well as a growing number of EndNote connection files is available through the Niles Software Web page at http://www.niles.com/home/z3950.htm.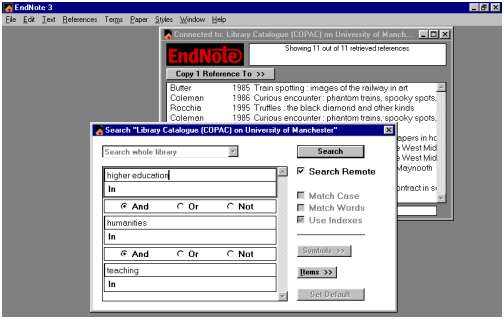 Searching the COPAC database with EndNote 3.0
---
[Table of Contents] [Letter to the Editor]
---
Computers & Texts 16/17 (1998). Not to be republished in any form without the author's permission.

HTML Author: Michael Fraser
Document Created: 22 December 1998
Document Modified: 6 April 1999

The URL of this document is http://info.ox.ac.uk/ctitext/publish/comtxt/ct16-17/stephens.html