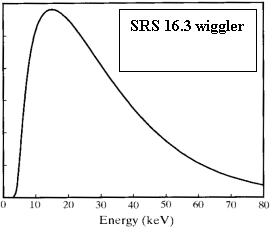 SRS station 16.3 is a high-resolution/high-energy diffraction facility, suitable for a wide range of applications in physics and materials science. 16.3 occupies the central beamline of wiggler16, a 6T superconducting wavelength-shifter. At 16 keV it has the highest critical energy of all the SRS stations. Energies from 5 KeV to above 70 KeV are available, and the spectrum is very smooth as shown in the figure.
<![if !supportEmptyParas]><![endif]>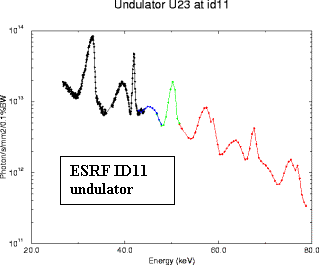 <![if !supportEmptyParas]><![endif]>
Whereas wiggler uses a line of alternating magnetic diploes, an undulator imposes an even more complex field variation. The result is very powerful emission of X-ray at chosen resonance energies. The spectrum of such a device is rather 'choppy', as illustrated in the case of ID11 on ESRF in the picture. If you are after maximising monochromatic flux, this is the best option. There is aprice to pay: if you 'drop' off the peak, the flux drops too. As a consequence, continuous monochromator adjustment is necessary.
<![if !supportEmptyParas]><![endif]>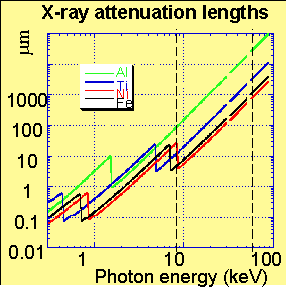 <![if !supportEmptyParas]><![endif]>
For many materials engineering problems having access to energies above 30-40keV is essential. The picture on the left shows X-ray attenuation lengths (in mm) for Al, Ti, Ni and Fe as a function of photon energy. Above 60keV transmission experiments through millimetres of these important structural materials become possible.
<![if !supportEmptyParas]><![endif]>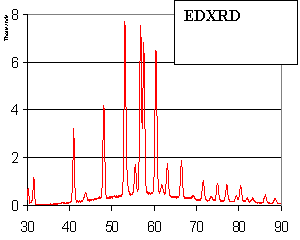 <![if !supportEmptyParas]><![endif]>
There are essentially two modes for diffraction experimentation: fixed energy (monochromatic) and resolving angle, or fixed angle and resolving energy (energy-dispersive). We can measure angles to the accuracy of 10-6 quite routinely, so monochromatic mode is preferred for high resolution work. We can discriminate energy only to about 10-2, which makes energy-dispersive mode sound like a non-starter. That is not so for strain measurement, though: we can find peak centres to accuracy which is many orders better than a channel width, so 50 microstrain accuracy can be achieved.
<![if !supportEmptyParas]><![endif]>
Depending on the problem, one or the other mode (mono or EDX) may be preferred. What is important is to have the flexibility allowing both modes to be accessed.
The other important aspect of beamline design is space management. Traditional diffractometers impose too much constraint on the sample space, as we know from SRS16.3, ID11 and BM16. A more sample-centred design would consist of a manipulation table surrounded by movable detectors which can be introduced and aligned as required by the experiment. It would also guarantee that the interest of any group interested in high energy X-ray diffraction can be satisfied.
---
alexander.korsunsky@eng.ox.ac.uk
September 2001