Adrian's Profile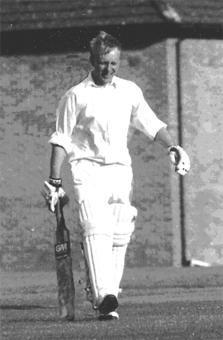 Adrian Gray
Playing Role
Allrounder - equally pants at everything
Highest Score
37 (outdoors) and 43 (indoors)
Best Bowling
3-22
Nicknames
"Oi! You!" and "Oh God, not him?"
Favourite batting shot
Cover drive - I play at least one a season
Usual way of getting out
Caught somewhere ridiculous following a huge heave at a christmas-present ball
Usual way of getting batsman out
also caught somewhere ridiculous following a huge heave at a christmas-present ball...
Favourite International Cricketer
Nasser Hussain
Favourite Domestic/Club Cricketer
Mark Gouldstone
Best player I played against
Dean Fulton
Previous Clubs
I've pimped my dubious talents round far too many clubs to even remember them all, let alone list them!
Favourite Ground
Shaldon, Devon
Worst Ground
Chalgrove - could be improved by planting potatoes!
Favourite cricket equipment
Big lump of wood
Memorable Moment On Field
Hitting my first six and uttering an Audible Obscenity
Memorable Moment Off Field
Getting UOHCC Champagne Moment for the above
Biggest Influence
Being dropped off a pavilion step aged six months
Biggest Fear In Cricket
That one day someone will buttonhole me and say "You. You're rubbish, you are."
Career if not cricketer
Errr... are any of us career cricketers?
Favourite Comment/Sledge On Pitch
To grunting bowler: God, it's Maria Sharapova!
Season's Ambition
After last year, to actually play a bit of cricket would be nice! The usual ambitions, though, are: Score 50, take five-for, bowl maiden (this will probably come before the five-for!).