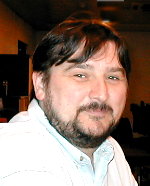 About me
Currently...
I am a member of the IT Services' Web and Communications Office in the role of SharePoint Consultant for the Dept. My main aim is to promote the use of SharePoint within the Dept. I do this by supporting current sites, meeting with potential users to demonstrate what SharePoint can do and help them specify their requirements and running SharePoint classes for the Dept. and wider University.
Previously...
I was a teacher in the IT Learning Programme, (ITLP) here at IT Services teaching, courses on a variety of subjects. This I did from 2001 to 2014. In my new role, I'll concentrate on SharePoint, Nintex workflows and InfoPath.
A long time ago...
From 1993 to 2000, I was working in the Middle East. I started my tour in Kuwait, working for the Institute of Private Education. This was my first time living abroad. I loved the great weather, (around 55°C in June) and the expat lifestyle!
Unfortunately, the desert around the City was out of bounds to foreigners as it still contained landmines from the Gulf War and was definitely to be avoided. Not too far from where I lived, there was a large area of desert containing the remnants of the Iraqi tank divisions. Most were burnt-out shells, but a few looked intact. It was quite a sight.
In '95, I left Kuwait for the red sand dunes of Al Ain in the United Arab Emirates. I was a teacher at the University General Requirements Unit, known as UGRU, of the United Arab Emirates University. It's also where I met my wife, but that's another story! The UAE is a much larger country, with wide open desert between Al Ain, the country's capital city Abu Dhabi, and Dubai. That's where I renewed my passion for astronomy. No light pollution problem in the middle of the desert, although we did have to contend with a few inquisitive camels!