What is E-Lit?
E-Lit is a syndicated option open to 3rd-year undergraduates at the Faculty of English. The course looks at the way the new technologies are shaping the study, teaching, and publishing of English literature. It aims to give you an overview of the major areas where IT has had direct impact on literature and its reception, and at the same time teach valuable transferable skills, i.e. use of the Internet for scholarly research, use of sophisticated software applications for literary and text analysis, and delivery of a digital project. These skills will prove invaulable to you when looking for a job after graduating, be it in publishing, teaching, journalism, or even going on to study English at postgraduate level.
N.B. This course is aimed at people new to IT. You will need some basic computing skills before coming on the course (detailed below) but you will be provided with training beforehand to make sure you are up to speed.
What will I learn? | Who teaches the course? | How is the course structured? | What work will be expected of me? | How will I be assessed? [NEW!] | What if I don't know how to create web sites? | Can I go on the course if I have little knowledge of computing?
What will I learn?
Once you have completed this course you will have learnt:
How new technologies are having a direct impact on the way people research and teach English literature
How the world of writing and publishing is changing because of the information age, plus obtaining an overall view of the current electronic publishing industry
The history of the main computer-based English literature projects from the earliest ideas in the 1940s up to the present day
What English literature resources are available on the Web and how to evaluate them
What a hypertext novel is, what an electronic book is, and how they are both written, read, and published
How the computer can help in analysing literary texts (e.g. authorship studies), and equally important how it can be used to help in the study of the English language
Essential transferable skills which will be invaluable when seeking a job or research position in academia, the media, publishing, teaching, and so on. Specifically you will be able to:
* use most of the computer applications employed by literary scholars
* use the Web effectively
* create a Web site (and you will have an example to show prospective employers)
* know how to design Web pages
* know how to evaluate Web sites

ENTER THE COURSE SITE for 2002-2003
(Reading lists, lecture titles, discussion board, etc.)
Who teaches the course?
The lecturers on the course are Dr Stuart Lee, Professor Suzanne Romaine, and Dr Ylva Berglund. The course is also examined by Professor Malcolm Godden.
How is the course structured?
The course is taught for six weeks during Hilary term. Each class consists of a short talk on the topic, hands-on sessions, and a round up discussion. All classes are held in the Computer Teaching Room in the St Cross Building. The course programme is as follows:
Historical Overview of IT in English Literature (Dr Lee) - this class will cover early packages such as Brown's Dickens Web and the Beowulf Workstation, looking at how the pedagogical methods used in these packages and design principles are still apparent.
The Web and English Literature (Dr Lee) - this class will look at the current proliferation of web sites devoted to English literature, covering on-line editions, sites on authors and specific topics, gateways, and e-fiction.
Hypertext, Hypertext Novels, and E-Books (Dr Lee) - this class will draw together many of the points raised in the first two weeks, looking a bit more at e-fiction, and exploring how well literary analysis and presentation lends itself to the often inherent intertextuality of the Web.
Text Analysis Using Computers I: Literary Analysis (Dr Berglund) - this class will introduce some basic text analysis packages looking at their development over the years. It will allow students to explore how useful these might be for more in-depth research.
Text Analysis Using Computers II: Corpus Linguistics (Prof Romaine) - this class will follow on from the previous session by introducing you to the analysis of large corpora of material. It will demonstrate how effective this tool can be and how it is being employed in research and the commercial sector.
Practical Workshop (all) - this final class will take you through practical exercises to prepare you for the final assignment.
What work will be expected of me?
Attendance at the classes is required. In addition to this, and in keeping with other syndicated options, you will be required to submit two pieces of written work during the course (2 x 2-3,000 word essays). These are not examined as such but are compulsory. In terms of the 'examination' on Week 9 you will be asked to submit:
A Web Site (of around 3,000 words in text, i.e. c. 10 pages or more)
A Written report (c. 3,000) to accompany the site, detailing its scope, target audience, and so on.
The Web site will be based on such things as a chosen author, a piece of text, a literary topic (e.g. 'war poetry'), or a literary study skill (e.g. 'tutorial skills'). You will be notified of the exact topics on week 6 of term.
What if you don't know how to create Web sites?
Don't worry! As noted below, during the summer vacation and michaelmas term you will have ample time to learn how to do this. The course tutors will direct you to free classes teaching these skills, or will arrange for some private tuition. Above all, creating web pages is easy - it would take you only about 30 minutes to learn the basics. If you can word-process, you can create web pages.
How will I be assessed?
When it comes to delivering your final project for examination you will not be marked on its technical achievements, but instead on its scholarly content. In other words you will not be at a disadvantage if you do not have high technical skills. Your site will be examined mainly on the following:
Structure of web site adheres to common practices, and reflects knowledge of other relevant sites, e.g. if you choose to do an on-line edition it looks and feels like other editions seen on the Web
Content of web site is of sufficient scholarly accuracy and level, and tone reflects the target audience (usually first-year undergraduate)
Robustness and technical reliability of site (i.e. all links work)!


Your site will be accompanied by a report (3,000 words). In this we will expect to see a:
Clear statement of area/target audience/reason for choosing site/knowledge of similar sites
Discussion of process by which site was constructed, choices made
Review of relevant literature - relating theory to development
Awareness of some contextual issues -such as copyright problems
Suggestions for future developments
Clear presentation
Full, accurate bibliography including links to other online resources



Can I go on the course if I have little knowledge of computing?
The answer to this is yes and no. You will be asked to sign up for the course in Trinity term. As soon as you do, you will be contacted by one of the course lecturers. At this point you will be asked to outline your previous IT skills. For the course itself you will need to be able to:
use the Windows operating system
use a word-processor
be able to use e-mail and browse the Web
create basic Web pages
But don't panic! If you do not have any of these skills there is ample time to pick them up over the long vacation and during Michaelmas term. The course lecturers will guide you towards appropriate free tuition at the University Computing Services which you can attend in your spare time prior to the course.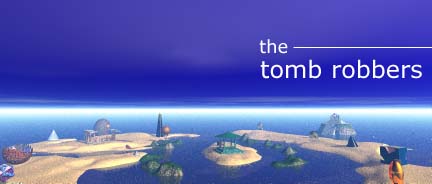 'Tomb Robbers' by Stuart Moulthrop