Hello.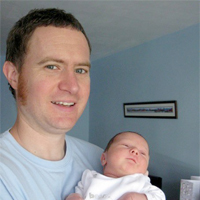 I am web designer at Oxford University Computing Services. I am co-manager of the Information Services Development Team and run the department's Web Design Consultancy.
I have an MA in Electronic Media from Oxford Brookes University, for which I built Oneironaut, an online comic.
I spent a year in Cameroon in 2006-7, which I wrote about on my blog Joseph Bloggs. I recently become a father, which has rather dried up the blog posts, but it's livened up my photo chronology project.
I've also written some brief notes for a demo I've given for using Wordpress to build your online presence.