This is the search engine I use most of the time. It's quick and easy to use, and covers Web sites and Usenet groups.
Organised by (rough) category, but with a search engine too. Sites are rated in five areas, including content, presentation, and helpfulness.

1st search
A list of links organised by (rough) category. There's also a search engine, with the option to look for just the most recent additions; you can also find out what other people have been looking for, should you want to.
"Global Online Directory". Now rather rudely demands that you use Netscape or Explorer before allowing you to access the site, which is frames-crippled. Those with graphics-based browsers who want to try it anyway, be prepared for long periods of waiting; apart from the initial age spent while the page loads, even tasks like selecting search options are accomplished by opening a new window - as though they want you to waste your time.
Search engine, plus sites organised into (odder than the usual) categories. This site seems to emphasise recreations.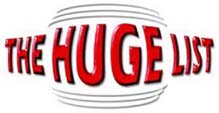 This address seems to have been bought by a porn company; I've therefore removed the link. I've left the entry simply to make my apologies to those who found themselves inadvertently led into something unexpected, and to express my disgust with the people involved.
A useful search engine (WWW and Usenet), which also offers a categorised set of links.

Joel's Hierarchical Subject Index
Maintained by Joel Jones. Aims to provide a guide to Internet resources on a hierarchical basis. Very ambitious, and only partially completed (they're looking for subject experts to help out).
Search the Web using various search options. Also includes Yellow Pages, News, and their Top 5% pages.

Lycos Top 5%
(Was "Pointcom"). Offers a set of reviews of `the top 5%' Web sites. It's not complete (but completeness is an unattainable goal), and the reviews (not to mention which sites are in that top 5%) are of course reflections of the personal tastes of the reviewers. It can be both interesting and useful, though.
Apart from the usual search engine, there's the option to restrict your search to naughtiness-free sites, plus e-mail look-up, a people finder, etc. Many sites have been reviewed (and you can restrict your Web-search to those). Reviewed sites are ranked by "relevance", though this seems to be somewhat idiosyncratic (a search on "philosophy" revealed that the American Philosophical Association was only 57% relevant... some of the sites accounted more relevant were somewhat surprising, too). The reviewers favour excruciatingly bad puns.
Search engine, offering the usual options. However, the front page is extremely graphics-intensive, which makes using a graphics-based browser tedious and a text-based browser confusing and difficult; although there's a graphics-light option, it's impossible to link to it directly. There's nothing here that other sites don't do as well or better.
New Riders Publishing. Usual search-engine facilities.
A selection of Web sites (still a huge number, though), with an efficient search engine:

A Web-search engine based on one of the first web robots; in theory, at least, this makes for an extremely efficient and broadly based search tool.
As the title suggests, this site doesn't offer a general Web search, only new pages (and only those that have been submitted to it). That makes it more manageable, of course, and if you check it often, it could be a useful tool.
Details of new Web sites, as submitted by their creators.
"A collective experiment towards a non-commercial, decentralised Hyperbiographical database of people on the Internet." I'm not sure what all of that means, but this is an attempt (by Enrique Canessa) to form a directory of people on the Web, with links to relevany information about them. At the moment it's limited to certain categories of person, but in theory it's completely general.
A list of registered WWW servers, organised by continent, country, and state. Based at the University of Stanford.
Again, this site limits itself to a specific type of site - in this case sites that are by, about, or primarily for women. That includes, of course, a vast number of sites of interest to the minority of the human race who aren't women.
Search engine, with a vast range of sites (though adding new sites to it is notoriously difficult, so don't expect completeness).