AMY ROBSART AND CUMNOR PLACE Peggy Inman (Cumnor History Society)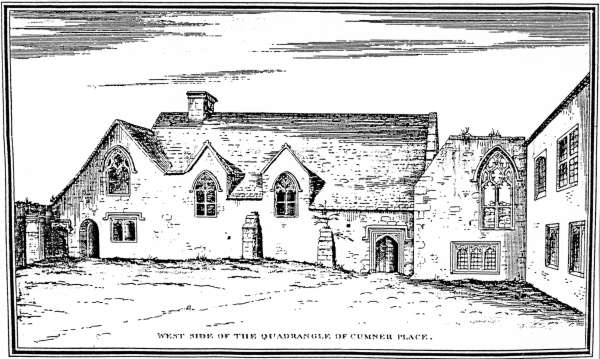 Engraving of 1805 from Lyson: Magna Brittanica.
Amy Dudley, daughter of Sir John Robsart, a wealthy Norfolk landowner, was the wife of the Elizabethan statesman Robert Dudley, later Earl of Leicester. They had been married at Sheen (Richmond) Palace in 1550 when they were both about eighteen. The young King Edward VI was present at their wedding. On September 8th 1560, still only twenty eight, Amy was found dead at the foot of a staircase at Cumnor Place, where she was then living. At the time there was speculation as to whether she fell accidentally, was murdered or committed suicide, and many subsequent historians have speculated, perhaps more furiously than contemporaries, about her death.
As we shall see, the circumstances lent some colour to suspicions of foul play, but two factors about the evidence help to explain the subsequent debate. One is that the record of the coroner's inquest into Amy's death has not survived; the other is that in 1584, twenty four years after Amy's death, the Catholic enemies of Leicester and the Queen produced a document, which has come to be known as "Leicester's Commonwealth", claiming that he had murdered Amy, and others. It was said she was shut up in Forster's house with Sir Richard Verney, who, first tried to poison her and then, having sent away her servants, broke her neck. (A similar account appeared in a less well known document very soon after Amy's death.(1) The allegations appear to have very little foundation in fact; Anthony Wood and Aubrey provided more dubious detail, and all this material was taken over by Ashmole in his Antiquities of Berkshire, which Sir Walter Scott read before he wrote the fanciful account of Amy's death in Kenilworth. (For a full account of "Leicester's Commonwealth" see Peck; Jackson gives a detailed comparison between Scott's story and the facts.)
After the marriage Robert acquired properties and held official posts in Norfolk, he was M.P. for the county in 1547, 53, and 59. But he never set up home there. In 1553 Robert was involved with his father, the Duke of Northumberland, in a plot to secure the accession of Lady Jane Grey in place of Mary. For this he was imprisoned in the Tower until October 1554 and Amy visited him there; but his properties remained confiscated and he was left "with nothing to live by" until March 1556. In that year it was rumoured that he was a fugitive in France suspected, probably wrongly, of involvement in further conspiracy against Mary.
It would not therefore be surprising if Robert and Amy were often parted. It has always been thought that Amy spent some years before her move to Cumnor late in 1559 at Denchworth, about ten miles from Cumnor as the crow flies. The evidence for this was a letter she wrote "from Mr Heyde's" in August 1557. Bartlett, writing about Cumnor Place in 1850, noticed that Mrs Odingsells, who was at Cumnor Place when Amy died there, was the sister of William Hyde of Denchworth and assumed that Amy had been living with him there. This view was accepted by Canon Jackson, who worked on the Dudley papers at Longleat, in his book on Amy Robsart published in 1877 and by other historians until recently. There is in fact in the British Museum an account which says that she was living "at Hyde's house in Hertfordshire"; (2) and Dr Simon Adams, when editing the Dudley accounts at Longleat (1995) (3) discovered that when Robert was on the way to visit Amy at Easter 1559 his expenses were incurred at Waltham, Ware and Buntingford, not in Berkshire. He has established that Amy lived at least from mid 1557 to mid 1559 with William Hyde of Throcking, about ten miles north west of Bishop's Stortford. Unlike his Berkshire namesake, this William Hyde can be closely linked with Dudley: he gave a daughter the unlikely name of Dudley and made Robert, his "singular good lord", overseer of his will. According to the account in the British Museum quoted above, and confirmed by the accounts, Amy had moved to Sir Richard Verney's house, Compton Verney in Warwickshire by September 1559 and by December was at Cumnor Place, the history of which is described below. It was then owned by William Owen and it is generally accepted that Anthony Forster, who bought the Place in 1561, was already his tenant there. Forster was a business associate of Dudley's and at some stage an officer in his household.
The question remains of how much Robert saw of Amy during these years and how far his absences after the Queen's accession were influenced by his relationship with her. Throcking was well placed between the Robsart estate in Norfolk (where the manor at Syderstone the Dudleys inherited in 1557 was uninhabitable) and London; it was also convenient to Hatfield, Elizabeth's home before her accession; she and Dudley were friends from childhood and he may well have visited her there. Dr Adams suggests that Robert could have spent time in Throcking with Amy and she with him in London. There Dudley stayed in Christchurch, a priory converted to a house in the neighbourhood of Aldgate. (This is another error Dr Adams has uncovered - entries about Christchurch had previously been thought to refer to the town in Hampshire.)
There are no extant accounts before December 1558 and the only recorded visit by Robert to Amy before that is in her letter from Mr Hyde's referred to above. Dr Adams has established that this letter, dated only August 7th was written in 1557. She writes to Mr Flowerdew on her own authority about the sale of wool on the Norfolk estate because she forgot to get Robert to do so before he left after a short visit, "he being sore troubled with weighty affairs and I being not altogether in quiet for his sudden departing". Historians have argued that this letter must have been written in 1559 and shows Robert rushing back to Court without any regard for Amy's feelings; but his hasty departure is explained by the fact that early in August 1557 he was on the point of leaving for St Quentin in pursuit of Mary's unsuccessful war with France.
On her accession in November 1558 Elizabeth made Robert Master of the Horse, an important post. It was not customary for courtiers' wives to live at Court; Elizabeth would in any case have wanted to keep Amy out of the way for she was strongly attracted by Robert, who was, as Neale says, "a magnificent, princely looking man". They were much together, and there was a great deal of gossip about the affair, which Amy must have heard. In March 1560 the Spanish Ambassador wrote about the possibility of Dudley divorcing his wife.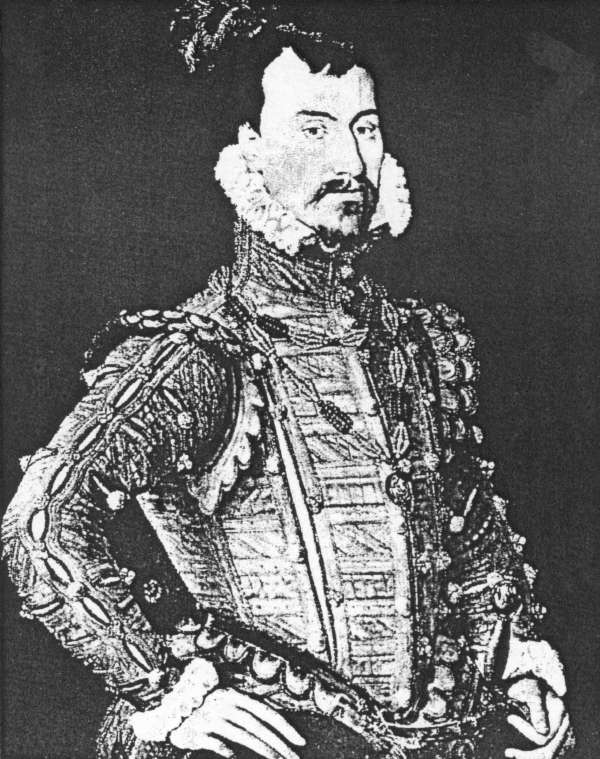 Robert Dudley, aged 28 from a
portrait in the Wallace Collection
Amy and Robert's subsequent visits to each other as revealed by the accounts show that he visited her in Throcking for a few days in March / early April 1559; and in May/June Amy visited London for about a month. Dudley was made a K.G. at Windsor on June 7th. Amy stayed at Christchurch (though it cannot be established that Robert was there too or that she visited him at the house Elizabeth had granted him at Kew) and with her mother's relations at Camberwell. There is no surviving evidence from the accounts or elsewhere that they ever met again before Amy's death in September 1560. The move from Throcking to Warwickshire and then to Cumnor was obviously more of an upheaval for her than the few miles down the road from Denchworth would have been and could be seen to have implications for her relations with Robert. On the other hand, as Dr Adams points out, in November 1559 Dudley was given the Lieutenancy of Windsor Castle, only thirty miles from Cumnor, and was thinking of buying land in Warwickshire. Moreover the evidence of the accounts showing Robert's expenses on his journey to Amy and hers when she visited him cannot be entirely relied on as a complete record of Amy's movements. The accounts also include expenses for some other journeys she made, for journeys made by Robert's servants to her and for gifts - a saddle, a looking glass and a few items of clothing, such as "a velvet hat embroidered with gold for my lady." But it seems that the moneys from the Robsart estate were paid directly to her to maintain her own household and there is no surviving record of how they were disbursed.
The news of Amy's death on September 8th 1560 was carried by Bowes, one of her servants, to Robert at Windsor. On his way Bowes met Thomas Blount, a kinsman and business associate of Robert's. It may be, though it is not clear, that Blount was on his way to Cumnor. On hearing Bowes' news Robert immediately sent a message after Blount asking him to use all "means you can possible for the learning of the truth" about Amy's death. The main source for the events is a series of letters exchanged between Blount in Cumnor and Robert in Windsor and Kew, copies of which are in the Pepysian Library in Cambridge (they are printed in Bartlett and Adlard.) The letters are copies, probably made in 1567 at the time of the Appleyard affair (see below); but they are likely to be accurate. "The greatness and suddeness of the misfortune so perplexes me", Robert wrote to Blount on the 9th September, and "how this evil doth light upon me, considering what the malicious world will bruit as I can take no rest." Blount must see that the coroner chose the "discreetist and most substantial men" for the jury. Blount replied that he found most of them already chosen and some of them at the house when he arrived there on September 10th, and he judged them to be on the whole wise and able men. Robert also sent for Amy's half brother, Appleyard, and "other of her friends" to be there and see what went on.
Blount discovered that on the day she died Amy's servants were sent off by her to the Fair at Abingdon, though Mrs Odingsells and Mrs Owen remained at home. In the course of the day Amy fell downstairs to her death. The Spanish Ambassador reported that on September 11th the Queen told the Court that Amy had broken her neck. On September 13th Blount wrote to Robert that the jury kept very secret; "and yet I do hear a whispering that they can find no presumption of evil". Robert was also assured by one Smythe, who seemed to be the foreman, that so far as he could see the death was a "very misfortune"; and from other contemporary evidence it is clear that the verdict was that Amy died by mischance. (Robert even suggested that another jury "might try again for more knowledge of the truth".) As Susan Doran points out the contemporary chronicler (see BL Add. MS 48023), whose account is of uncertain reliability and is hostile to Dudley, says this Smythe was the Queen's man who was " put out of the house for his lewd behaviour" and implies he was not impartial. One Richard Smythe was Gentlleman Usher to the Queen and in 1564-5 was Mayor of Abingdon.
In relation to the jury's and other explanations of Amy's death it may be useful to look at the evidence about the staircases at Cumnor Place from Impey's research discussed below (4). He says "the dog-leg design" of staircase known to have been in the north-west corner of the building giving access to the upper rooms "is entirely consistent" with it having been such a pair of stairs. This staircase was drawn by Lysons and appears to show the four radiating treads of the first flight making a right angle turn to the west up to a square landing; the second flight made a ninety degree turn to the east, followed by a few treads in a straight line to the top. The drawing shows only thirteen or fourteen steps in all. The contemporary Chronicler quoted above says the pair of stairs was by report only eight steps. The Lysons staircase, however, may have been built after 1560, replacing an earlier one; but there can only have been a fairly short flight in any pair of stairs in Cumnor Place. The others in the building were probably all straight flights.
Prior to Amy's death there had been rumours around that Robert was planning to murder her. Poisoning was usually mentioned, as by Cecil to the Spanish Ambassador on, or close to, the day of her death. The chronicler already quoted said it was because Amy thought she was being poisoned that William Hyde desired "she might no longer tarry" in his house at Throcking. Some ten days after her death the Rector of Coventry wrote to Cecil that there was "a grievous and dangerous suspicion of muttering" about it in his neighbourhood. The accusations that Robert had had Amy murdered circulating in the 16th century are not specific about how it was done but the assumption must be that her neck was broken first - no murderer could rely on pushing his victim downstairs. As for Robert's guilt, certainly in the letters he showed little grief, but he was determined to get at the truth. His agitation only emphasised that if he were discovered in a plot to murder his wife he could never have married the Queen; indeed it seems he was ordered to leave the Court while investigations were under way. Cecil went to see him in his house at Kew and was thanked for his "great friendship"; and though Cecil said Robert was "inflamed" by Amy's death he never said he caused it. (He might have been glad to be rid of Robert but would not have wanted a scandal which would have reflected on the Queen.) Robert's brother-in-law, the Earl of Huntingdon, a man of puritan leanings, sent Robert half a dozen stag pies on September 17th and added a postscript to his letter, having just heard of Amy's death, saying that Robert had no doubt considered "what a happy lot it was that brought man from sorrow to joy and from mortality to immortality", and more in this vein, but with no hint of suspicion.
In 1567 Appleyard, who had some personal grievance against Leicester, alleged that the Duke of Norfolk and others had bribed him to revive the charge that Amy had been murdered. He was put in the Fleet prison. He later withdrew the allegation of bribery. The Privy Council seems to have had no doubt about Leicester's innocence, but gave Appleyard the chance to see the inquest verdict. He declared himself fully satisfied and persuaded that this proved "under the oaths of fifteen persons how my late sister by misfortune happened of death". He added tantalisingly that he had returned the copy to the Warden of the Fleet who had sent it back to their Lordships, but Privy Council papers were subsequently destroyed in a fire.
Accounts based on "Leicester's Commonwealth" accuse Verney and Forster of complicity in the murder though the original document, while saying it happened in Forster's house, names Verney and another man as the murderers. Sir Richard Verney, like Forster, was in Robert's employment, but there is no evidence he was anywhere near Cumnor at the time. The landlord of the Abingdon inn where Blount put up on September 9th said it was a great pity that the death happened "in that honest gentleman's house", presumably meaning Forster. Blount later said that some of the jurors were enemies of Forster's - but they failed to implicate him. In November a representative of the English Ambassador in France, who wanted to scotch rumours there, said the Queen told him that " the matter had been tried by the country and found to be contrary to that which was reported", Dudley was at Court and "none of his at the attempt at his wife's house" ("attempt" presumably not the Queen's word). Forster was well connected - his wife was the daughter of the brother of Lord Williams of Thame and he later bought Cumnor Place and became M.P. for Abingdon from 1566 - 72. According to the Latin inscription on his tomb in Cumnor church "he knew how to strike the … lyre, rejoiced to settle young plants in the earth and with remarkable skill to build noble houses". On his death he left money to his four musicians and six song books to a friend. On the whole it seems unlikely that Forster was in any way guilty of Amy'' death.
Neale in his life of Queen Elizabeth says that Amy most likely committed suicide, a view recently supported by Susan Doran. Blount interviewed Amy's personal maid who "dearly loved her". She confirmed what Bowes had told him that Amy had ordered her servants to Abingdon Fair that morning and had wanted Mrs Odingsells to go too, though she refused because it was Sunday and "no day for a gentlewoman". Amy had been very angry when people objected to going. When Blount asked the maid whether she thought Amy had died by "chance or villainy" she said "by very chance, and neither done by man or herself". Her mistress was a good virtuous gentlewoman who daily prayed upon her knees. Then she added "I myself have heard her pray to God to deliver her from desperation". When Blount suggested Amy might have had "some evil toy on her mind" the maid said that if he judged so of her words she was sorry she had said so much. Twice Blount referred to Amy's "strange mind" and promised to tell Robert more in person. Amy had reason for unhappiness: her childlessness and her husband's behaviour. However, death by a fall downstairs can no more be relied on by a suicide than a murderer. No doubt an inquest jury in 1560 would have been very reluctant to bring in a verdict of suicide against Dudley's wife.
Professor Ian Aird, in an article in the English Historical Review, excludes suicide and puts forward another reason for Amy's desperation and death. (5) In April, 1559 seventeen months before her death, the Spanish Ambassador reported that people talked of Elizabeth and Dudley's friendship so freely that "they go so far as to say his wife has a malady in one of her breasts and the Queen is only waiting for her to die to marry Lord Robert." Aird argues that this was cancer and had spread to the bones of Amy's spine, which could have caused her neck to break spontaneously from any jolt or fall. Though Aird accepts the questionable nature of the document, he finds support for his theory in "Leicester's Commonwealth" which said that Amy fell so as to break her neck "but yet without hurting her hood which stood upon her head". He also suggests that Amy's anger and irritability on the morning of her death was due to this illness. Edward Impey inclines to Aird's view; and Percy Williams in his book The Later Tudors (1995), says Amy was likely to have been "weak and ill". But Aird's argument does not seem conclusive. Amy visited Lincolnshire, Suffolk, London and Warwickshire during the two years before her death; and there is no suggestion in the Blount correspondence that she was physically ill. Just before, or even on the day of, her death Cecil told the Spanish Ambassador that she was publicly reported to be ill "but she was not so, on the contrary was quite well and taking good care not to be poisoned".
Amy was buried in the chancel of the Church of St Mary the Virgin, her body having been first taken to Gloucester (Worcester) College. (There is a relatively modern tablet recording her burial.) Eighty poor men and women were said to have marched in procession, followed by members of the University, a choir and heralds. Her funeral cost Robert £500; but he was not present. The chief mourner, by custom of the same sex, was Lady Norreys, Forster's wife's cousin.
The biography of Dudley on which Dr Adams is now working will no doubt throw new light on these events. We may never be certain how Amy died but the jurors were there and their view may be as near to the truth as we can get. As for Dudley, the Queen blew hot and cold in her attitude towards him. Of course she never married him, nor anyone else, though Dudley married again. However, she made him Earl of Leicester and gave him Kenilworth Castle and large areas of North Wales. He commanded the army at Tilbury when Elizabeth made her famous speech on August 9th 1588 just after the Spanish fleet had been defeated. Later in the month Robert set off for Kenilworth on his way to a cure at some spa. He stayed a night at Lord Norreys' home at Rycote, and while there wrote a letter to Elizabeth. She had afterwards to write on it "his last letter", for he got no further than Cornbury Park, where he died.
According to the Little Guide to Oxfordshire (1906) Amy's ghost was supposed to have met him in the park there saying that "in ten days he'd be with her".
If we are to believe Bartlett, writing in 1850, it was chiefly the people of Cumnor who remembered Amy's mournful end. Her ghost, he said, haunted Cumnor Place, made people fear to go near it and "destroyed the peace of the village". The ghost had to be exorcised by nine clergymen from Oxford who drowned it in a pond in the adjoining close; and the water never again froze over the spot. (6) However, as is shown below, the Place was often occupied by farmers in the centuries before its demolition. Mickle's delightful 18th century ballad "Cumnor Hall", which inspired Scott in the writing of Kenilworth, gives us a romantic view of the Place's past (7) When Anthony Wood visited Cumnor in the seventeenth century he was shown a room which was known as Dudleys Chamber. A somewhat cynical historian of Berkshire, William Clarke, wrote that when he visited Cumnor in 1817, after the building was pulled down, there were no traditions current about it among the villagers, but that they sprang up plentifully after the publication of Kenilworth in 1821 to satisfy the curiosity of visitors. (8) Scott's friend, Mrs Hughes, wrote to him from Uffington that she had heard Lord Abingdon had been ready "to hang himself for flinging away" an asset like Cumnor Place.
Cumnor Place was built in the 1330's, possibly on the initiative of William of Cumnor, abbot of Abingdon from 1332-4. By then in a ruinous state, it was finally taken down by the Earl of Abingdon about 1810 and parts were reused, chiefly in rebuilding Wytham church. As described below, the 14th century buildings consisted of four ranges around a central courtyard. There was almost certainly an earlier abbey grange in Cumnor but no trace of it has been found on the site. The building was modified somewhat in the late 15th century and again in the 16th, when the alterations were probably made by Anthony Forster. A doorcase in the west wing bore the date 1571 between his initials, and as we have seen his epitaph refers to his skill in building noble houses.
The following account is based on the most recent authoritative reconstruction by Edward Impey. (9) As he says, this cannot be precise. His work is based on some brief 17th and 18th century accounts and others from the early 19th (more detailed, but produced after the building was taken down), on the existing remains, his excavations, a sketch plan by Lysons and various maps and engravings. These include the Vyse view of about 1774 of the north-east end (back cover) and the Lyson's engraving of the west wing (cover). There is an early 19th century pencil and wash drawing in the Bodleian marked "Same view engraved in Lysons Mag. Brit. Berks.) (10) This is in some ways similar to the Lysons engraving but is drawn from an angle which shows none of the north wing.
Impey excavated three trenches on the site of the Place. Here we can only mention very briefly, from his very full account, some salient finds. Excavation of two trenches towards the south-east revealed the north wall of the chapel and the west wall of the east wing; fragments of discarded 14th century and newly dressed 16th century stone from the trench on the site of the east wing were evidence of the later 16th century alterations. But a third trench dug to two metres in the neighbourhood of the west wing revealed no medieval remains in situ because of modern disturbance, possibly the removal of sand for building. It may be noted that when the school's garden was taken over for an extension to the churchyard in 1922 and a new piece of ground secured, the headmaster said that, because this was partly on the site of Cumnor Hall, the upper foot of soil was "simply an accumulation of large stones, gravel and brickbats", which took considerable labour to clear. (11)
Probably within a year or two of the demolition, Henry Hinton, who was it seems more conservation minded than Lord Abingdon, wrote that there are "sufficient remains of the buildings, crypts, chimney pieces etc of Cumnor Hall to show its former greatness" and the ground plan "is worth preserving"; (12) but this was not to be. There is a fairly detailed account of the building in the Gentleman's Magazine of 1821 which, Impey says, "so far as it can be checked, seems to be reliable".(13) Its author refers to the memory of the villagers and some remaining foundations. Tighe, writing at the same time, said all that remained was "a heap of stones and the foundations, now scarcely discernable", though the east wall certainly remained when the Gentleman's Magazine engraving (fig. 2) was made. Bartlett in 1850 refers to "the existing wall at the west end of the churchyard" and says the arch in it (see below) is yet visible". He says his detailed account was chiefly supplied by William Slatter who was Vicar of Cumnor from 1810 until his death in 1849. He became Vicar on the death of John Slatter, his father or his uncle, at the age of 21 and was, Bartlett says, familiar with the building long before it was taken down. (14) In fact Bartlett knew the Gentleman's Magazine account and though he criticises it, follows it closely, with few discrepancies. His plan (Fig. 1) shows the general layout. The buildings were placed round four sides of a quadrangle 72 ft long from north to south and 52 ft wide from east to west.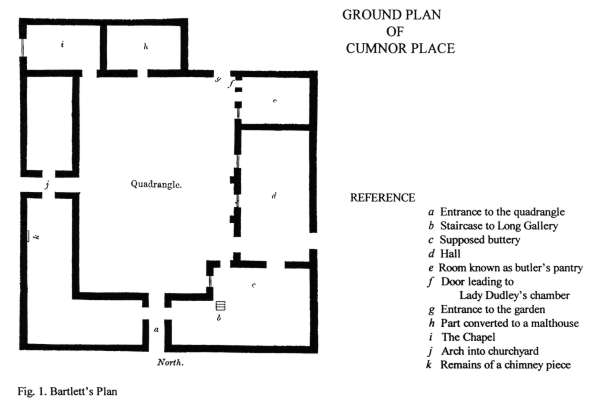 The main entrance was on the north side where the road is, and led into a forecourt and then through another archway into the central quadrangle. Above the great gate was an inscription in capital letters "Janua vitae verbum Domini (The word of God is the gate of life) Antonius Forster 1575" (Fig. 3) (15) The north range contained rooms on the ground floor and what was known in later years as the Long Gallery above. Access to this room and to the handsome upper chamber in the projecting section of the building was by the staircase described above. Impey assumes, as seems most likely, and as Tighe and Bartlett say, that access to the staircase was from the courtyard side. The Gentleman's Magazine says it was from the outer court. There was possibly an approach from both sides, to a common staircase at the top.(16)
The western range contained the Great Hall, which had a richly ornamented timber roof and 14th century windows with elegant tracery and painted glass. (A rather similar hall exists at Sutton Courtenay "Abbey" which also belonged to Abingdon.) There was another large upper room at the southern end of the west wing with its own staircase. The kitchen and offices were behind the northern end. The south range was probably separated from the west by a doorway to the gardens; it contained further elaborate apartments and at the east end the chapel (17). The simpler east wing was divided by an archway into the original churchyard. Of the cellars said to have existed, no trace has been found.
Various documents about the mansion in the 16th century (see below) refer to its immediate surroundings. When it was passed to George Owen in 1546 it was with the close called Cumnor Park and the three closes called Saffron Plottys, and these together were estimated to amount to 15 acres. In an earlier document of 1534 and in the 1540 grant to Oliver Wellesbourne the park was also called a close. It was clearly small. As Impey points out, in an eatlier 19th century map it is shown divided between a Little Park of 3 acres immediately west of the site and a Great Park of 18 acres to the south of that. (18) Including a 3 acre field to the south east this would approach the Gentleman's Magazine's figure of 25 acres of park. As Impey says, the southern boundary is still marked by a substantial bank. Though the abbey presumably kept deer in the park, it had other sources of venison; for in 1105 Henry I ceded in perpetuity to the abbey and its abbot the right to take all the roebuck they could find from Cumnor and Bagley woods, of which they had custody. They could only take deer by royal license, but no-one else was to be licensed to hunt there (19) There were also fishponds in the surrounds of Cumnor Place. Anthony Forster probably laid out the formal gardens whose remains lie under the earthworks in the field west of the site.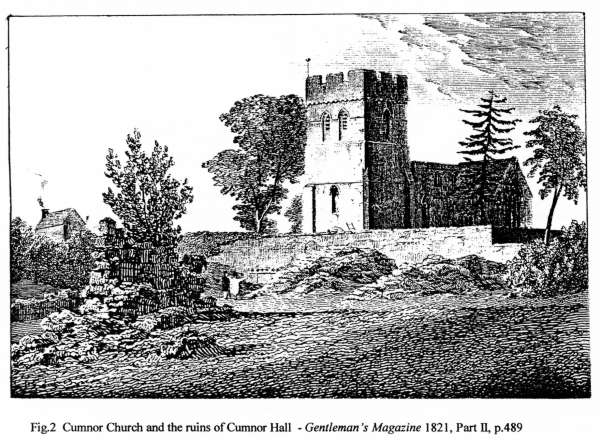 According to a document of 1534 or 5 the manor and its possessions were exempted from paying first fruits and tenths because they were "reserved in the hands of the present Abbey as in the time of his predecessors on account of infirmity or plague occurring in the town of Abingdon." (20) But Cumnor Place was also at the centre of abbey lands which were a rich source of produce and revenue. With it during the tenure of the abbey and later these covered most of the very large parish of Cumnor and even beyond, lying chiefly in the northern half of the hundred of Hormer, the rest of which also belonged to the abbey. (21)The so called Chatsworth Cartulary tells us that originally the monks themselves directly administered the manors belonging to the abbey, including Cumnor; in these "individual monks called officials of the manors" stayed. "And from his bailiwick each of them provided … an agreed portion towards the convent's victuals." But this arrangement was found unsatisfactory because the monks who lived away from the abbey "behaved in a less orderly manner than was fitting and expedient among laity". This document is written in a late medieval hand but, according to the editors, could date from any time after 1260. This evidence is confirmed by a taxation roll of Pope Nicholas IV of 1292 in which by far the larger part of the abbey's wealth is listed under "Abbas". The sum entered for Cumnor and Wootton was the largest but one among the listed. The so-called obedientiaries of the abbey like the cook, gardener or master of the works received relatively minor sums, chiefly from Abingdon itself. But the abbot's receipts from the manors of course contributed to the upkeep of the abbey as a whole, and there is some evidence that in the later middle ages the obedientiaries regained control. (22)
In March 1538 the King gave Cumnor Place to Abbot Thomas Pentecost (or Rowland) who had surrendered Abingdon Abbey without much argument. As Impey says, he might in normal cicumstances have retired to Cumnor. A contemporary, writing to John Mason, noted that "lord Pentecost of Abingdon is now Sir Rowland of Cumnor". He presumably had with him his Chaplain, master Pamphilion, an important monk, and probably other monks. Thomas's will was proved in April 1540. (23) He asked to be buried in the chancel of Cumnor church. His will does not help us about the layout of Cumnor Place but shows he lived there in some style. He left to his sister the contents, apart from the altar, of the room in which he lay (he was "sick of body"). There were boards, stools, chairs, cushions, coffers, his "great feather bed" with its green silk hangings and its bedclothes and four pieces of hangings made of arras, a rich tapestry-like fabric. He left his nephew the plentiful furniture of the next room and of the next chamber "called the little chamber" and of " the chamber over the seller" (which could well have been a ground floor storeroom, or possibly the buttery); and to Thomas Cooke the best bed that he lay in and all the hangings within the chamber. He also left every one of his servants a feather bed. And he bequeathed some eighty books to various ex-monks of Abingdon.
After the Abbot's death the King appointed Oliver Wellesbourne "custodian of the site of our capital messuage at Cumnor called 'le Manour Place" at a wage of 2d. a day to be paid yearly; but in 1546 it was assigned to George Owen, the King's physician, and Oliver Bridges, in exchange for property in Oxford and £301-12-9d. As we have seen, Forster was living in Cumnor Place in 1560 as a tenant of George Owen's son William and presumably continued to live there until his death in 1572. Owen granted him Cumnor Place in 1561, apparently in perpetuity, but in return for an annual payment of £53-18-7d. His tenure seems not to have been entirely secure for George Owen died owing the Queen money. She seized the manor and in 1568 granted it to Richard Suslove for 25 years at £25 a year. He assigned it to someone else who in April 1570 assigned it to Forster.(24)
Forster left the manor to Leicester in return for £1200, £500 of which was to go to his wife. (There were problems about Leicester's tenure too.) Two years later he passed it to Henry Lord Norreys of Rycote, (25) who already owned Wytham, and through whom - five of Henry's six sons having died as soldiers - it went to his grandson Francis. Elizabeth, Francis's daughter and heir, married Edward Wray, and it was their daughter and heir, Bridget, who married Montague Bertie, Earl of Lindsey. Their son James became Lord Abingdon in 1682. The Earls of Abingdon remained the owners of most of the estate until the early 20th century; but who lived in the Place is more problematical. In the second half of the 17th century the Place, the Park, the Lord's Mead and the tithes in Cumnor were rented to a member of the Peacocke family. (26)
The Berties themselves lived mostly at Rycote, which was seriously damaged by fire in the 18th century, and subsequently at Wytham. As Benjamin Buckler, Vicar of Cumnor, said in 1759 there were "no seats of gentry" in the parish and "no gentry resident among us, or who have any concern with us". (27) (Buckler's use of 'us' might be questioned as except for Sundays he resided in All Souls.) Already in 1658 Anthony Wood described Cumnor Place as "the ruins of a manor house". When Hearne visited it in 1717 he said the west end of the south wing was in ruins. The ruined first floor room pictured in 1806 had been in an extremely dangerous condition and in danger of falling down long before that date. (28)
The Place became a farm. According to Hearne in 1717 a good part of the Place was still standing "but much altered, especially the north part of it which was adorned about a year since by Mr Knapp Gent who now lives in the house" ; and Tighe, writing in 1821, says that the Place "having long been untenanted, was repaired about a century ago" for a farmer and his family. He adds that report had it that a carpenter then employed to take down some of the buildings discovered a trunk full of gold coins concealed in a chamber adjoining the Long Gallery. (29) These accounts tie in with an indenture of 1727 which tells us that in 1699 Lord Abingdon rented to John Knapp Gentleman of Woolly Farm, Chaddleworth the Rectory and Cumnor Place with its adjoining pasture and Park, a meadow called the Lord's Mead in Cumnor Mead together with all houses, orchards etc. belonging to the Manor House. In 1713 the manor passed to his son on his marriage; but John Knott the elder was to be allowed to live in "the little parlour and the Chamber over the same and the Chamber next adjoining to the first mentioned Chamber and lying next to the pigeon loft, also the Chamber over the Kitchen and the Buttery adjoining to the Kitchen".(According to the Gentleman's Magazine the ground floor room in the projecting north end of the west wing was probably the buttery.) He was to be allowed to grow his vegetables in the garden and to share the kitchen pump and the house of office with his son, who was to enjoy the rest of the premises. John Knapp the elder died later in the year 1713, but his son's right to go on living there was confirmed in 1727.(30) Judging from the rent paid by him for his messuage and homestall (or farmyard) as recorded in a survey of Lord Abingdon's estate in 1728 Cumnor Place was still far and away the largest establishment in the village. (31)
In 1759 Buckler said the Place was in a ruinous condition with one corner only inhabited; the Hall was used as a granary and its painted windows had been vandalised. But it still seems to have been a going concern as a farm. In 1770 it was let by Dudson Rawlins of Abingdon, presumably a tenant of the Earl, to John King of Cumnor, a yeoman farmer. He was to have the "mansion house … and farm with the Malthouse, Barns and Stables, Dovehouse, orchard and garden for 14 years. How far these farm buildings were original, purpose-built ones or adapted from parts of the main building is not clear. Bartlett says the west end of the south wing became a malthouse, and the chapel, its paving and seating removed, a cow house. King also rented "12 acres of arable (but now converted into mead ground) situate in the Park … and also those two little closes adjoining to the said messuage", with the fishponds and 30 acres in Cumnor mead. Rawlins would keep the buildings, gates and walls in repair, but John King was to keep the glass windows in repair and to keep the pigeon house and fishponds stocked. (32) The Gentleman's Magazine says that the farmer at some stage left and the building "was parcelled out in small tenements and let by the lessee at Abingdon to the poorer classes". (33) William Stone owned all the 25 acres around Cumnor Place in 1808. When the lease expired around 1810 Lord Abingdon decided to take down the ruinous building.
So what remains of it today? We can begin at Wytham church which Lord Abingdon rebuilt using parts of Cumnor Place. The entrance to its churchyard is thought to have been the archway in the south west corner leading to the garden. It has had inserted above it the inscription "Janua vitae verbum Domini" described above; the date that went with it at Cumnor may be that over the entrance to the nearby cottage. Cumnor Place provided two other door surrounds: one leading from the churchyard to the Abbey garden and one in the west wall of the tower, both of which can only be seen from the Abbey garden. Impey says the north porch doorway was reconstructed from the south porch of the old church, which seems possible from a drawing of 1804 showing this to have been a very large and elaborate porch. (34) The two right hand windows in fig. 3 are respectively the central and western windows in the south nave wall; the western window (to the far right in fig. 3) was the northerly of the two hall windows facing the courtyard. The window to the left of the door in fig. 3, the south east nave window was the southerly one. The Gentleman's Magazine says that the east window in the chancel was the first floor window facing the courtyard at the north end of the west wing. The tracery appears similar; but as Impey says the Wytham east window is narrower than this and could be the window from the southerly first floor room in this wing, as shown in the Lysons drawing. All the windows have been cut down and the transomes removed. Sparks argues that the corbels in the nave must have come from Cumnor. They include a well carved bagpipe player, a king and a lady with a whimple; those in the old church were described in 1797 as "a series of rude grotesque ornaments … resembling heads with caps." (35)
According to Tighe, when Cumnor Place was pulled down some of the materials were also used to build "the new cottage of Dean Court"; (36) and the Gentleman's Magazine says that some of its stone was used to build a schoolhouse near the church. This was pulled down when the old school now standing was built. This was pulled down when the old school now standing was built. There are some remains on the site. Fig.2 shows the east wall of the east range in the early 19th century; a small portion of the southern part of this wall still remains above ground. In it can be seen traces of the of the chapel east window and a scar which Impey's excavations confirmed to be where the chapel north wall began (37). The "fireplace" still remaining against the bank is in the same position as shown in Fig.2, but it has been reconstructed and only the lintel decorated with quatrefoils is original. There is a small, recently damaged, roundel of painted glass in the most westerly window of the north aisle of Cumnor church which showed a lady kneeling before a faldstool on a chequered pavement. It was said to have been moved there from the hall of Cumnor Place.. The largest relic of the monastic buildings is the barn, but it has been considerably reduced in size. According to Baskerville it had already been greastly reduced in length by 1690; the Gentleman's Magazine says one side had been taken down to reduce its breadth by several feet. Impey says only the base of the north wall is medieval, and that this is continued in the walls still standing to the west and, probably, to the east (38). At least part of one of the fishponds can be found behind the houses in Appleton Road; another at the edge of the cricket field has been filled in. And as wehave seen, in the field to the south there are still traces of the terrace walks of Anthony Forster's garden.
FOOTNOTES
Note: All documents beginning Ms are in the Bodleian.
B.R.O.= Berkshire Records Office.
Full references to books and articles are in the bibliography.


1 B.L. Add. MS 48023, fol. 353
2 op.cit.
3 Adams : Household Accounts, especially Appendix 1
4 Impey: The origins & development of non-conventual monastic dependencies Vol.II pp110-111. There is a local belief that the staircase at Lower Whitley Farm, which was not thought to be, but is in fact, in situ, came from Cumnor Place.
5 Aird, E.H.R., 1956
6 Bartlett, p. 1 0.
7 Printed ibid. pp. 114-118
8 Ms Top Berks c I.
9 Impey, Vol. 11, pp.44-119
10 Ms Top Berks c49, fol.240
11 Cumnor School Log Book 17.3 and 21.7, 1922. Oxfordshire County Records Office T/SL 101 (ii)
12 Ms Top Berks c57, fol.66
13 Impey, p.57
14 Tighe, p. 15; Bartlett, p.22. Alumni Oxoniensis, 1715-1886, Vol.4,1888 says William was John's son. But William Fletcher noted in his diary on August 6th, 1810 that William was presented to the living on the death of his uncle. Ms Top. Oxon d 247.
15 According to Benjamin Buckler, Vicar of Cumnor for many years, writing in 1759 (Bodl. Gough Berks 24, p. 19). Hearne, on a visit from Oxford in 1717, noted it as ending "Antho Forster 1572", the year of Forster's death, but he was wrong about the abbreviation of Forster's name
(Oxford Hist. Soc. Vol. XLIII, Hearne's Collections Vol. VI pp. 79 and 319.)
16 Impey, op. cit., pp. 110- 111
17 Impey, op. cit., p. 104. Hearne says "The Chappell was on the South side being adjoining on the East side to the Great Hall. The Chappell is down and only some ruins remaining"; but he would seem to have been wrong about the situation of the chapel.
18 Impey, op. cit., pp. 48-49, 51
19 Slade and Lambrick, Vol. 1, p.53
20 This document was one of a number in Buckler's possession and is quoted op. cit, p.18-19. Handed down to successive vicars, some of these documents are now in the Berks Record Office, including a copy of about 1630 of the 1534 document (D/P 45 3/1)
21 See e.g. Feet of Fines Berks, Easter 3rd Eliz. transcribed Rye, pp.77-78.
22 Slade, Vol. 11, pp. xlvi, 327; V C.H. Berks, Vol. 11, 1907. pp. 8-9, 60.
23 P.R.O. P.C.C. 5 Abinger, printed in Cumnor History Society: Cumnor Wills &
Inventories, 1993
24 For this para. see B.RO. D/EP/ 7/94, which includes the grant to Wellesboume 29.8.1540; for that to Owen L/P Henry VRI, Vol. 21 1546-7, Pt. 2, no. 332 (26) and B.R.O. DIP 45 311; and to Forster see p.8, fn4; for his will Cumnor Hst. Soc., op. cit.
25 Ibid. 1572-5, no. 1843, 13.2.1574
26 Ms Top. Gen. c 64
27 Buckler, op. cit., p. 1 8.
28 Clark, A.: Life and Times of Anthony Wood, 1891, Vol. 1, p.260; Heame, op. cit., p. 319; G.M., op. cit., p.203
29 Tighe, pp. 21-22
30 For these 18th century documents see B.RO. D/ER T 37
31 Ms Top. Oxon. c38, ff.21-22.
32 B.RO. D/ ER T 37
33 G.M. op. cif., p. 35
34 Ms Top Oxon. b3
35 G.M., 1797, Pt. II, p.652
36 Tighe, p.52
37 Impey, op.cit., pp.64, 102.
38. Bartlett, pp. 143-4; G.M., p.205; Impey, op. cit., p.49


BIBLIOGRAPHY
Adams, Simon : Household Accounts & Disbursement Books of Robert Dudley, Earl of Leicester, 1558-1561, 1584-1586. Camden 5th Series, vol.6, 1995. See especially Appendix 1
Adlard, G., Amye Robsart, the Earl of Leicester, and Kenilwvrth, 1870.
Aird, I., English Historical Review, Vol. 71, 1956, pp. 69-79.
Bartlett, A.D., An Historical and Descriptive Account of Cumnor Place, 1850
Buckler, B., article on Cumnor, 1759, in Bibl. Top. Brit., 1790.
Doran, Susan : Monarchy & Matrimony; The Courtships of Elizabeth 1, 1995.
Gairdner, J., The Death of Amy Robsart, English Historical Review, 1886, pp. 235-259.
Gentleman's Magazine, 182 1, Part 11, especially pp. 34-3 5, 201-205.
Haynes, A., The White Bear. The Earl of Leicester, 1987.
History of Parliament, House of Commons, 1508-1588, 1588-1603.
Impey, Edward, The origins & development of non-conventual monastic dependencies in England and Normandy, 1000-1350, 3 volumes. University of Oxford D.Phil. thesis, 1991.
Vol. II, pp. 44-119, deals in detail with Cumnor Place.
Jackson, J.E., Amye Robsart in Wiltshire Archaeological Magazine, May 1877, pp. 47-93.
Lamboum, E.A. Greening, Wytham, in Oxford Preservation Trust, Wytham, 1943.
Neale, J.E., Queen Elizabeth, 1934.
Peck, A. ed., Leicester's Commonwealth 1985.
Penigrew, Thomas: An Inquiry into ... the Death of Amy Robsart, 1859.
Reid, H. J., Cumnor Place and Amy Robsart, in Ditchfield, P.H., Bygone Berkshire, 1896.
Rye, W., The Murder of Amy Robsart, 1885.
Slade, C.F. and Lambrick, G. eds: Two Cartularies of Abingdon Abbey, Oxford Historical Society New Series, 1990-1992.
Sparks, M., The Parish of Wytham, 197?.
Tighe, H.W., An Historical Account of Cumnor, 1821.
Victoria County History, Berkshire, Vol. IV.
Waldman, M., Elizabeth and Leicester, 1944.
Wilson, D., Sweet Robin, 198 1. (The best of recent biographies of Leicester)

This edition has been revised to take account of Dr. Simon Adams' recent important discoveries about Amy's life. (Peggy Inman)