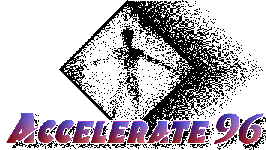 Photographs
Here is a short (unofficial) illustrated report of what went on at Accelerate 96. Needless to say, each of these thumbnail pictures is a link to a larger version of the same. These pictures have been digitally remastered, so at last you can see what was behind the fog!
Thanks
To the Accelerate 96 committee for the loan of David Warman's Accelerate 96 logo and dates background (the committee asks that these graphics not be reproduced without prior arrangement).
Technicalities
The images are in JPEG format and view OK on my 8-bit and 16-bit screens with xv 3.10a. They include a gamma correction for displays of about 2.2 gamma (which seems to cover the majority of PC displays).
Get on with it!

Most of the main events were held in the Main Hall just off from the hotel lobby, which appeared to seat about 500 (which we more than 85% filled, incidentally). Behind the stage was this backdrop showing the scenery from the very first scene on QL. The opening ceremony took place at 8pm on the Friday, but before that there were some episodes of QL, a presentation by the Starship Enterprises Theatre Co (which I didn't go to because I was being a steward at the time) and a showing of the film `Lord of Illusions'.


That evening was the `Good Evening Peoria' theme party featuring a disco with records from the 50s and 60s.


As you can see, Sam and Al came to the convention and stood at the front for almost the whole weekend (shame someone forgot to put the screen up¹). Oh, and you can just see Mike Tucker in the distance giving his talk about the special effects on Red Dwarf and Doctor Who. Apparently his next job was building a 4-foot model of the Red Dwarf (the last model was blown up).


Then came John D'Aquino's one-and-a-half-hour session, preceded by a short montage of scenes from his work in QL (as Frank LaMotta) and Seaquest DSV among other things. His cousin's son Alex from Wales [is that right?] was at the convention, and John brought him out on stage for a few moments.


The Rev. Michael Fuller, Bo Maxwell and Steve Wilson gave a joint talk/discussion entitled `Religion versus Myth versus Science in Quantum Leap' in which they each joked about how few episodes of QL they had seen². However, the Rev had spoiled it by watching the `halloween episode' which had just been shown in the main hall. :-)


I didn't watch the showing of `The Invaders', so I had a look around instead. One hall in the hotel had been set up as a dealer room, where you could buy books, videos and signed photographs of all manner of science fiction stars. . .


. . . and some more books and photographs, and a few bits of merchandise from Star Trek and other science fiction programmes. The QL merchandise was very popular and had mostly sold out by the time I arrived. The Bank of Scotland also sent someone round to recruit customers for its `Star Trek' credit card.


Later that afternoon was the charity auction at which over 70 pieces of memorabilia from QL and other programmes and films featuring the QL stars - most of them autographed - were sold at bargain prices. One of the QL scripts went for £190 if I remember correctly (which upset me a bit because I did want a script. Never mind, I got a couple at IndyLeap later that year - one of those was Deborah Pratt's original working script from `Troian'). The stars of the charity auction were undoubtedly little Sam and Al, whom you can see sitting on the front desk (in front of Max, one of the assistants). Some trivia from the committee: the highest price for an item was £240 for a Langoliers press pack signed by Dean Stockwell; the total amount fetched at the auction was over £2600.


If you were at the convention then you might have seen some sad individual wandering around with a handlink pretending to be an Observer. If it was really quiet you might even have heard it squeak. This is a bad photograph because no one was behind the camera. If I had been behind the camera I wouldn't have chopped his head off and I would have told him to turn round a bit to reveal his red striped shirt and bright blue tie. He needs a bit of a haircut, doesn't he?
If we completly ignore³ the autograph session, the Wannabee's workshop and the QL role playing adventure which took part somewhere else in the hotel, the `Disco Inferno' party that night (not preceded by the Fancy Dress competition because only one person turned up!), and the talk by Steve Wilson the next morning comparing QL to various legends, then the next thing we get to is


the talk by Mike Tucker and Sophie Aldred, who apparently agreed to come to the convention just in time to be written in the programme book - but then, Mike and Sophie did have a book to plug. . .


Sophie Aldred also related some anecdotes about her experiences on Dr. Who (and with appearing at conventions afterwards with Tom Baker).
(And Sam pops his head into the picture again - Al is going to get rather jealous, I think. . .)


Then John D'Aquino gave another talk and was very entertaining again. Someone had previously mentioned to him that they had heard him sing, and he had rashly promised to give us a song if someone could find a guitar. . .


So someone produced a guitar and he gave an excellent rendition of "Father And Son" by Cat Stevens which everyone enjoyed immensely.


It turned out that today was his birthday, so the convention committee had arranged for the hotel staff to produce a cake - this was just after a bloke called Andrew Iann sachayed down the aisle dressed as Marilyn Monroe and sang happy birthday Mr D'Aquino. And our illustrious chairperson Lee hovered in the background waiting to present. . .


the card, signed by (almost) everyone at the convention (how do you think of a suitable greeting to write when there are already 400 of them on there?!), which bears an original piece of caricature artwork showing John dressed as Ben Krieg from SeaQuest standing next to a mirror in which is the image of Scott wearing his Fermi suit, with the words `Oh Boy!' written at the top.


After the video team quiz, there was a Mirror Image debate. Unfortunately the earlier events had overrun so much that the showing of Mirror Image had to be cancelled (and we were still running late). However, the panellists Penny Hill, Hilary Broadribb, Davina Pereira and Lee Owers-Sansome (funny how there were no men - Sam didn't say a lot) discussed whether or not the episode was a complete disaster. If I remember correctly, Hilary and Penny (on the left) did not like the episode, and the other two did like it. However, there did not seem to be any particularly vehement arguments since all the panellists had some opinions on each side of the fence. And Hilary appeared to have lost her notes. [Apologies if I have mixed up Hilary and Penny, but I think Penny is the one on the left].


After the Mirror Image discussion, Bo Maxwell's sideways look at time travel took place having been postponed from the previous day (this meant that an `X Files special briefing' was displaced into another room). The drawing you can't quite see on the flip chart is a diagram of timelines as postulated in the film `Back to the Future'.


After a teatime break the closing ceremony took place, at which various prizes were presented and the committee thanked everyone. Of course the guests received presents (which you can see in gold boxes) and John D'Aquino thanked everyone for being so nice.


That night there was a `Welcome to the millennium' party (with a rather thin excuse for playing music from the early 90s instead of from the next millennium!) at which there were some fabulous costumes, not least from Andrew. A raffle was drawn and the cocktail party was judged.
And then I was on the bus back to dreary old Oxford. . .
---
¹ The real reason for the screen being down is that Mike had shown some pictures earlier and it was too noisy to put the screen up while he was talking.
² This was, of course, a bit of joking around and not to be taken seriously.
³ I'm ignoring them because I have no photos, not because they weren't any good. In fact, I didn't have time to go to most of them, but at Steve Wilson's talk I was at the door and so not close enough to take pictures.