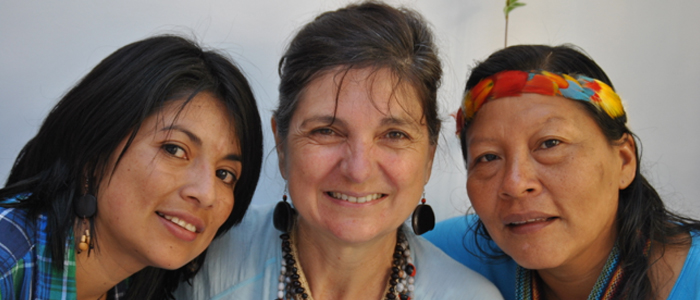 Dr Laura Rival is Associate Professor at Oxford where she has been teaching and researching the anthropology of nature, society and development since 2001. In addition to her position at the Oxford Department of International Development (ODID, also known as Queen Elizabeth House, QEH), where she has directed the MPhil in Development Studies, she is an active member of the School of Anthropology (SAME), the Institute of Human Sciences (IHS), and the Latin American Centre (LAC).
With her students and research collaborators, Laura Rival has studied a wide range of conceptualizations and uses of the Amazon biome, including the mechanisms by which humans know and symbolize the biological world, reproduce and transform their social and cultural worlds, and contribute to the making of the forested landscapes they inhabit.
She has conducted ethnographic fieldwork in Ecuador with the Huaorani and the Chachi, and with the Makushi in Guyana. Through her numerous publications on Amerindian conceptions of nature and society; plant knowledge and plant symbolism in the Americas; indigenous rights and oil development; schooling and culture; and social and community forestry, she has contributed to the theoretical development of Amazonianist anthropology, historical and political ecology, and ethnobiology.
Over the years, she has specialized in interdisciplinary research and teaching, using anthropology to create bridges between the natural and the social sciences. Both her graduate and undergraduate teaching are popular with students who wish to examine political economy issues from an anthropological perspective. Her 'Foundation Course in Anthropology' has gained a reputation for its unique approach to international development. It will soon be complemented by the optional 'Advanced Course in Anthropology and Development.' By offering a detailed examination of how Latin American governments respond – or fail to respond - to the twin challenge of environmental degradation and entrenched poverty, her course 'The State, Governance and Natural Resources in Contemporary Latin America' shows that if environmental resources are too often a source of conflict, they can also serve as a base for improved human welfare and social development. She designed a course on 'Development, Health and Environment' with colleagues in Geography and Public Health. This course was shared by several Masters Programmes from the Social Science Division and the Medical School between 2010 and 2014. She also regularly teaches on the Ethnography Option Course 'Native Peoples of Lowland South America' and the new Human Sciences course 'Introduction to Ethnobiology.'
She supervises 6-8 doctoral students a year, either in Social Anthropology or in Development Studies, who become experts in Amazonianist Anthropology, Ecological Anthropology, or World Development.