Welcome to the Oxford University branch of Unite the Union
The Unite University offices are located at:-
First Floor,
Faculty of Medieval and Modern Languages,
41 Wellington Square,
Oxford,
OX1 2JF
P: (01865) 2 70548
E: unite@.ox.ac.uk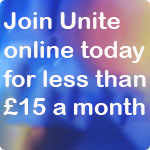 Your Representatives
Lab Reps who require information relating to workplace issues may have access to information held at the Branch Office. The Branch has a small library containing information on employment rights, health and safety, discrimination etc.
If you need advice, you can contact your Divisional Rep or a member of the Committee.
Meetings
Branch meetings are normally held on the second Thursday of each term at 1pm in the Plant Sciences Schlich lecture theatre.
The next meeting has been scheduled for Thursday 22nd March 2018.
Contribution rates
Current contribution rates are listed on the Unite the Union web site.