`Quantum Leap' music
MP3 format
These MP3s should be near-CD-quality and are recorded at 128kbps (which means just under one megabyte per minute) so they are quite large. I hope you find the download time worthwhile.
Theme music - fourth and fifth seasons.
The fourth season music is of course the same as for all the previous seasons (except for a sustained guitar note right at the beginning of the season 1 theme). Several episodes in the fifth season seemed to have a few bars of music missing at the end of the theme music - this was different for each episode - but the copy below was taken from Memphis Melody which doesn't have anything missing.
Disco Inferno - Chris Stone's song Outta Time.
(This has a very slight dip in the volume part way through - this is as transmitted and happens when the screen shows Chris's father in the other part of the club.)
Pool Hall Blues - Sam and Violet's song (sometimes called "He'll be there").
Piano Man - Somewhere in the Night.
Sheet music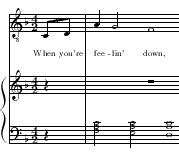 Pool Hall Blues
Here is the music for the song which Sam and Violet sing in the `Pool Hall Blues' episode of QL (also available above in MP3 format).