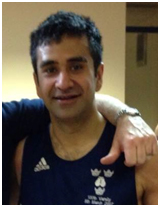 Heman Joshi
Heman Joshi
Heman Joshi is a specialist registrar (SpR) in general surgery on the North East Thames, London rotation. His clinical interests are in lower gastrointestinal surgery and minimally invasive surgical techniques as well as an academic interest in pelvic floor dysfunction and the surgical applications of novel biomaterials. He is Out of Programme (OOP) having acquired a 2-year research fellowship from the Oxford Pelvic Floor Centre, to pursue a project characterising the aetiology of rectal prolapse and is working closely with the silk group on the mechanical properties of skin and pelvic connective tissue.

He is currently reading for a DPhil in surgical sciences at St Edmund Hall, Oxford, and is helping us develop potential novel uses for silks in surgery for hernias and prolapse disorders.

He is clinical tutor in surgery at St Edmund Hall and Lincoln College, Oxford.
Other Collaborators:
Urban Group – Department of Physiology, Anatomy and Genetics, University of Oxford
Academic Department of Surgery, Oxford University Hospitals Trust, Oxford.
Recent News
November 2019
Prof. Fritz Vollrath and colleagues from the Fudan University in China are widely covered in the news for their discovery of a means to produce fake Rhino horns using horse hair. Hopes are that this product may undermine the illegal market for rhino horn, and demistify the properties of rhino horn. View Here