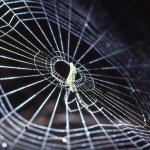 Nephila web
Image highlights gallery
All images copyright Oxford Silk Group 2000-2012
This is a gallery of thumbnail images displayed on the top left of our web pages.
These are typically images from higher-impact papers.
Images are displayed here for reference only. If you would like to obtain permission for use, press statements, publications, access to our library of press-quality photographs and video please contact us.
Energy efficiency here

23/11/12

Jumping spider

Nephila maculata

Nephila edulis

Argiope sp.

Desert spider

Nephila Senegalensis

Nephila web
Recent News
November 2019
Prof. Fritz Vollrath and colleagues from the Fudan University in China are widely covered in the news for their discovery of a means to produce fake Rhino horns using horse hair. Hopes are that this product may undermine the illegal market for rhino horn, and demistify the properties of rhino horn. View Here