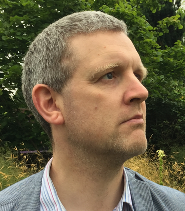 This is my personal page at Oxford University.
I have been employed at the University of Oxford since 1995. Since February 2013 I am the Director of Infrastructure Services within IT Services (formerly Oxford University Computing Services (OUCS)). I am also a Supernumerary Fellow at Lady Margaret Hall (since Oct 2017).
After a major restructuring in September 2017, Infrastructure Services comprises:
Networks and Data Centres

Data Centre Services
Network Operations
Network Support and Development
Managed Network Services

Platform services

Unix Platform Services
Microsoft Platform Services
Endpoint Device Management Services
Identity and Access Management

Enterprise Applications

HFS backup and archive
Nexus 365 & SharePoint
Chorus Integrated Communications

Technical Architecture and Projects
Until December 2012 I was also the Technical Coordinator for the Student Systems Programme (40%) and a member of the ICT Coordination Programme core project team.
I have played a leading role in a number of projects relating to the management of research data. From 2009-2010 I directed the JISC-funded Embedding Institutional Data Curation Services in research (EIDCSR) project. Eidcsr was succeeded by the Supporting Data Management Infrastructure for the Humanities (Sudamih) project, for which I was co-Director (2010-11), and the successor to Sudamih was the Virtual Infrastructure with Database-as-a-Service (VIDaaS), for which I was also co-Director (2011-12).
In 2010/11 Stuart Lee and I led a small-scale, JISC-funded project to develop a toolkit for the costing of IT Services.
From 2007-2009 I directed the e-Infrastructure Use Cases and Service Usage Models (eIUS) Project, including the production of a set of e-Infrastructure case study videos.
I was also Co-Director of the Scoping Digital Repository Services for Research Data Management project until it completed in March 2009.
I have participated in a number of virtual research environment (VRE) projects, most recently as Co-investigator for the VRE for the Study of Documents and Manuscripts Project.
Until August 2007 I was the Head of the Research Technologies Service at OUCS and Director of Intute Arts and Humanities, a service of Intute, the national resource discovery service. Until August 2008 I was also Director of OSS Watch, the JISC-funded open source software advisory service. For a short period of time I was Associate Director of the Oxford e-Research Centre (OeRC).
From Sept 2005-March 2007 I contributed to Oxford University's ICT Strategy Programme as Technical Secretary and a leader of the work task charged with developing scenarios sketching out the near-future benefits of ICT for day to day working in the University.
I have a BA (Hons) and PhD in theology from the University of Durham.
My current interests include: models for the delivery of IT services within research-intensive universities; institutional ICT structures for supporting research, including the development of virtual research environments and development of services to support research data management; full economic costing of ICT services and ensuring sustainable ICT services within institutions. I still maintain a passing interest in digital humanities (formerly known as humanities computing).
Previous publications include:
Some presentations include:
[With Stuart Lee] "Costing IT Services". What price your service? UCISA, Birmingham, 9 December 2011.
"The Place of the Digital Library within Virtual Research Environments". Digital Libraries à la Carte. International Ticer School (Tilburg), 24 August 2006. [PDF version]
"Sustaining Virtual Research Environments (VRE) : Some Strategic Considerations". JISC VRE Programme meeting, Oxford, 17 Jan 2006.
[with J. Wilson] "Humbul Humanities Hub". University College London. P008: Digital Resources in the Humanities, 21 October 2005.
"Not Robots but Humans: Stories from the Humbul Humanities Hub". Colloque du centre «Cultures Anglophones et Technologies de l'Information» (CATI) Université Paris-Sorbonne, 12 March 2005.
"Supporting Virtual Research Environments : how can we help?". Oxford University Computing Services Open Day, 22 April 2004.
[with S. Holdom] "The development of online resource discovery services for the humanities". The Future of the Humanities, St Hugh's College, Oxford, 19-20 March 2004.
"Open source software for teaching and learning". Open Source Software for Learning, Teaching, Assessment and Administration, ALT Workshop, Oxford Brookes University, 13 Nov 2003.
"Learning about Institutional Portals: the OUCS Pilot Portal Project". Digital Projects in Oxford seminar series, 12 Nov 2003.
"Portal-to-portal: joining up content to decrease the time spent clicking as distinguished from the time spent working". EINIRAS Conference, London, September 2003. [Powerpoint]
(With F. Pinto) "Humbul Humanities Portal: Managing Access and Integration". Digital Resources in the Humanities 2003, University of Gloucestershire, Cheltenham, September 2003. [Powerpoint]
"Building bridges and intercept points: putting national and institutional portals in touch with one another". UCISA-JISC Portals Forum, June 2003.
"Delivering national portal services for the humanities". Gateways to Research and Lifelong Learning: Portals in Perspective. University of London Library, 25 April 2003.
(With F. Pinto) "Authenticating remote users to remote resources: the experience of the Subject Portals Project". Internet Librarian International, Birmingham, March 2003 [Powerpoint].
(with F. Boyle) "Oxford's institutional repository: what eprints can do for you". Digital Projects in Oxford seminar series, 19 Feb 2003.
"Simple access to archival descriptions using the Open Archives Initiative Protocol". DRH2002, University of Edinburgh, September 2002.
"Humbul Humanities Hub". Dibner Institute, MIT, March 2002.
"User views of the Humbul Humanities Hub". DRH2001, School of Oriental and African Studies, London, July 2001.
"Web resources for teaching". School of Humanities, University of Nottingham, March 2001.
"Greek text on the Web: finding, using, delivering." Oxford ICT in Classics Conference, July 1999.
"Selecting Resources for a Subject Gateway: Who Decides?". ACH-ALLC International Humanities Computing Conference, University of Virginia, 9-13 June 1999.
"Online desktop commentary: the case of the Starr Report." Text and Commentary in the Electronic Age, Oxford, October 1998.
"CTI Textual Studies 1984-1999: What Have We Learnt?" Digital Resources for the Humanities, Glasgow, Sept 1998.
"I was wandering in cyberspace for 40 hours and 40 minutes, when lightning struck": The Problems of Finding Religion in Cyberspace Paper presented to the British Middle Eastern Studies Conference, Birmingham, 7 July 1998.
"The history of the electronic text". Part of a history of the book seminar session on the electronic text and the future of the codex, Oxford, 1998.
"Teaching the Humanities with Digital Resources." Paper Delivered at the Digital Resources for the Humanities Conference, Somerville College, Oxford, July 1-3 1996.
"Tools and Techniques for Computer-Assisted Biblical Studies." New Testament Graduate Research Seminar, Oxford, June 1996.
Professional service
I was external examiner for the MA/Diploma/Certificate in Electronic Communication and Publishing, University College London, 2003-2006. From 2002-2004 I was also external examiner for the Certificate in Humanities Computing for Languages, University of Cambridge.
I am, or was, a member of the following committees:
2011- , Lady Margaret Hall (LMH) ICT Committee
2005- , Humanities Division IT Forum
2004-2017 , Classics Faculty IT Committee
2010-2013, Ucisa Infrastructure Group Committee
2009-2012, Student Systems Management Group
2009, Humanities Division IT Review
2008-2013, X5 Project Steering Group and Oxford Project Board (was Resolve Replacement Project)
2009-2011, Enhanced Computing Environment Programme Board
2007-2011, Core User Directory Project Working Party (Chair)
2007-2009, Oxford Digital Repositories Steering Group (Technical Secretary)
2007-2009, Steering Group for the Oxford University Research Archive (ORA)
2008, University Groupware Project Shortlisting and Procurement panels (OUCS Sponsor)
2006, OST e-Infrastructure Virtual Research Communities Working Group
2005-2007, Oxford University ICT Strategy Steering Group (Technical Secretary)
2005-2006, Research Portals in Arts and Humanities Project Group
2003-2005, Resource Discovery Network Management Board (elected representative)
2003-2009 , TAPoR: Text-Analysis POrtal for Research External Board
2003-2007, OSS Watch Advisory Committee
2003-2006, AHDS Literature, Languages and Linguistics Advisory Committee
2003-2005, HEA Philosophical and Religious Studies Subject Centre Steering Group
2001-2005 , AHDS History Advisory Committee
2003-2006, Association for Computers and the Humanities Executive Council (elected)
2003-2005, Accessing our archival and manuscript heritage Steering Group
1999-2005, Digital Resources for the Humanities Standing Committee (Chair, 2001-2004)
2002-2003, MedHist [History of Medicine Gateway] Advisory Group
2000-2004, Resource Guide for the Arts and Humanities Advisory Group
Past Activities
Durham: My PhD thesis was entitled, "The Feast of the Encaenia in the Fourth Century and in the Early Liturgical Sources of Jerusalem" (1995). I was one of the first theologians to make use of the Web and of course my first web documents were a (draft) abstract and material relating to my thesis. The full text of my thesis is now available online. During my time in Durham I ensured that Durham was amongst the first to have a web site for its Department of Theology and I also created a guide to internet resources for theology (not working since the migration of Humbul to Intute). I also made available online a section of the wandering pilgrim Egeria's journal dealing with the Jerusalem liturgy together with a translation.
Oxford: From 1995-1999 I was Research Officer, Manager, and finally Deputy Director of the CTI Centre for Textual Studies. During this time I edited, and contributed to, numerous issues of Computers & Texts, maintained most of the Web site, travelled the UK and beyond organising presentations and workshops, and undertook various other online/offline activities for the Computers in Teaching Initiative. I was also Oxford site manager for the ASTER Project (Assisting Small-group Teaching with Electronic Resources).
My weather station
Occasional Twitter feed


Goodbye to