BUCS 2014 - On Ilkla Moor baht map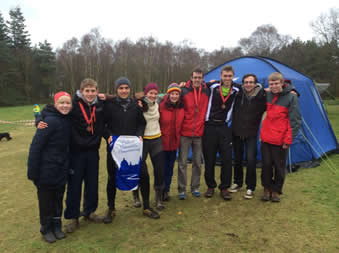 This weekend saw OUOC make the trip to Leeds for the Best Weekend of the Year™, BUCS (or BUSA for those born in the stone age). An initial squad of 15 had dwindled to single figures due to injury, Avis car hire's incompetence and a malfunctioning alarm clock, but nevertheless it was with quiet confidence that the Oxford convoy made its way up the M1.
Leaving behind a glorious spring day the team arrived on the north side of Ilkley Moor in typically blustery northern conditions. Faced with tough courses, well planned by local Airenteer Alistair Wood, our BUCS fresher's Aidan Smith and Karin Sorlie led the way taking 6th and 7th place respectively. With good runs from Ben Stevens, on his home turf, and Piotr Czaban, the Men's team finished in 4th place on the day. The women did equally well thanks to some excellent work in the Summer transfer window; our second Scandinavian import, Aini Vuorinen, finished 23rd, whilst club stalwart and Women's captain Sophie Louth finished 40th. It was also great to see our other two BUCS debutants, Alex Vai and Oliver Robshaw, acquit themselves well in some challenging terrain.
The social on Saturday evening lived up to all expectations, and for the first time in recent BUCS history the organisers got their priorities straight and provided Beer instead of food. Kudos to LUUOC. Having finally found The Fenton we were able to conduct the traditional Boat Race where Oxford, despite wearing circa 99% of their five pints, was unable to match the Scots.
Sunday morning saw OUOC turn their weary eyes towards the relays. The men's race has provided a great deal of excitement in recent years, and this weekend's race was not to disappoint. Sheffield were Oxford's biggest rivals, but their first leg runner was clearly feeling the effects of going too hard the previous night and came in a few minutes down on the leaders, including our first leg specialist Ben Stevens. Jamie Parkinson set out quickly on 2nd leg and, fresh from spending the previous day playing a girl's sport, was able to extend the lead in a rare case of actually remembering to read his map. The Hockey player then handed over to Aidan Smith, who had taken on the responsibility of the third leg and started strongly. Realising that Oxford was going to beat Sheffield by an embarrassingly large margin Smith then decided to go walkabout in the rocks around #9. For future reference, it's on the High Street, just opposite At Thai. This kindly allowed Sheffield to take the lead, which the Oxford man set about regaining. However almost as soon as this had happened ShUOC, aided by a shorter final gaffle, managed to get away again and take the victory by a painfully close 30 seconds. A particularly sweet win for the Men of Steel after losing out in last year's BUCS and British Relays. Sheffield's second team also somehow snuck up into 2nd place, so it was 3rd place for the Oxford boys.
In the women's relay it was a different story as Edinburgh's women are actually rather good at running-quickly-whilst-not-getting-lost and, along with Durham and Sheffield, locked out the top 5 places. So it was a battle for 6th place with Cambridge. When the Tabs ran a stupidly fast first leg we were left playing catch up which Aini, Sophie and Karin did admirably well, closing the gap to less than 4 minutes by the end of the race. Nevertheless 7th place was a dramatic improvement on recent years when we haven't even managed to field a women's team and, along with the individual results, lifted Oxford to 3rd overall for the weekend behind just Sheffield and Edinburgh.
A fantastic weekend by all accounts, with a great combination of competitive racing and excessive socialising that bodes well for Varsity in early April. Many thanks to Leeds University Union Orienteering Club and Airenteers for organising, we're already looking forward to next year!
Individual
7th Karin Sorlie (Women's A)
23rd Aini Vuorinen (Women's A)
40th Sophie Louth (Women's A)
6th Aidan Smith (Men's A)
10th Oliver Robshaw (Men's B)
15th Ben Stevens (Men's A)
50th Piotr Czaban (Men's A)
51st Carl Bootland (Men's A)
74th Alex Vai (Men's A)
Relay
3rd Oxford 'Posh Boys' (Ben Stevens/Jamie Parkinson/Aidan Smith)
7th 'Team Comeback' (Aini Vuorinen/Sophie Louth/Karin Sorlie)
23rd Oxford 'Plebs' (Oliver Robshaw/Carl Bootland/Piotr Czaban)
Overall
1st University of Sheffield
2nd University of Edinburgh
3rd Oxford University
4th University of Cambridge
---
---
Last Updated: Friday, 27-Sep-2019 19:34:55 BST
©Oxford University Orienteering Club