Dr Ralf Schwörer
Postdoctoral Research Associate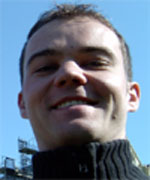 Ralf got his Abitur from the Gymnasium am Hoptbühl, Villingen-Schwenningen (Germany).
He then did his Zivildienst (civilian service in lieu of military service) with the Malteser Hilfsdienst in Villingen-Schwenningen, where he qualified as Rettungssanitäter (ambulance officer).
He studied chemistry at the
Universität Konstanz
and got his
Diplom
with
Prof. Dr. Richard R. Schmidt
. Ralf stayed in the Schmidt group to do research on the synthesis and evaluation of sialyltransferase inhibitors and got his Ph D in 2003.
In 2003 he joined the Davis group as a postdoc and is currently working on the synthesis of "glycodendriproteins" in a collaboration with Genencor International®.
Last updated: 14-04-04
Dr Ben G. Davis
University of Oxford
Chemistry Research laboratory
Mansfield Road
Oxford, OX1 3TA, UK
Phone: + 44 (0)1865 275652
Fax: + 44 (0)1865 275674
Ben.Davis@chem.ox.ac.uk