Leo Tolstoy was obviously familiar with my ancestors - otherwise how could he have managed to describe them so accurately? A couple members of the Korsunsky family appear in Chapter XXIII, Part I of Anna Karenina.

---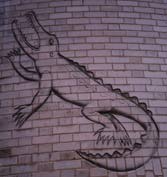 My Alma Materin Russia was Moscow Institute of Physics and Technology, or PhysTech, as it's known to almost anyone who cares. Don't ever confuse it with Moscow University! we've split away in 1948 and have lived happily ever since.
Petr Kapitza, the Nobel Prize winner at the age of 83, was one of the founders. He's given his heart and soul to the cause of raising generations of scientists for the country. He even gave his son Sergei to our Institute as the Head of Physics Department...
Before coming back to Russia in 1937 and getting busy founding institutes and universities, Kapitza worked with Rutherford at the Cavendish Laboratory in Cambridge The legend has it: Kapitza was an uncouth Russian visitor, he kept calling Rutherford 'crocodile' behind his back (would 'kiwi' have been more appropriate, one wonders?) One day Kapitza even went to the trouble of carving a sizable croc on the wall of the Mond building where his lab was housed.
In my own travels I happened to retrace Kapitza's steps backwards: from Moscow PhysTech to the New Museums Site in Cambridge, where the croc still looks down from the wall...
---
KBAHT (that's in Russian) -
One of the best science journals for kids I've ever seen in my life. My mother who's a teacher of physics used to subscribe, and I had loads of fun as a kid trying to solve all those problems - mighty difficult some of them were too!
It's all joint ventures now... The journal is published by the National Science Teachers Association, and in English is called QUANTUM. The content hasn't changed much, thankfully, and mostly represents translations from Russian.
QUANTUM is on the web - it's great the idea lives on.
---
I taught Materials Selection for Design recently. Not confining the course to enumerating performance indices and illustrative (sometimes contrived) examples, I also turned to history - to test how well the method applies to something that has already occurred. In particular, it seemed a good idea to include case studies of Robert Stephenson's XIX'th century bridges - very appropriate to Newcastle, of course (my office at the time was in the Stephenson Building).

---
Northern Lights isn't a brand of cigarettes - we aren't interested in those any more. It's about glimpses of life in the colder climes...
SAS Scandinavian Airlines used to provide a route from Newcastle to Moscow via Copenhagen and Stockholm (we thought it was better than driving to Heathrow or Manchester) (see SAS's electronic flight schedule service on their web page).

We collected mementoes on the way, and tried to feel artistic to make the journey more fun. Here are some of Tanya's impressions. This project is always in a state of flux...
---
This is a link to AltaVista search - I use it most - but if you want to extend your horizons to include some other vistas, try the Search Page.

---
You may want to try out the Universal Cyrillic Converter (written by Ilya Sandler) - ñòîëü ïðèâëåêàòåëåí äëÿ òåõ, êòî ïîíèìàåò (if you are into that sort of thing, of course).