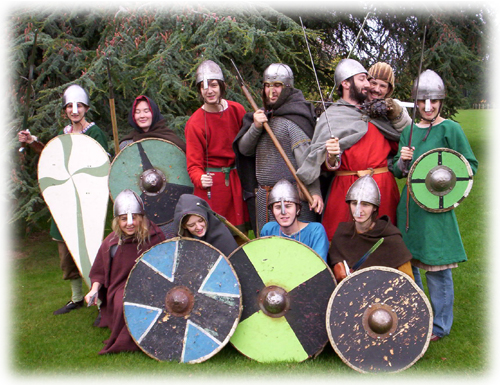 Did you think the Dark Ages were over?
Well, not quite... Deep in the Forest of Wychwood, there remains one small band of warriors, forgotten by time, who still defend their hidden lair against the invaders. Officially known as the Oxford University Historical Re-enactment Society, the Wychwood Warriors are dedicated to recreating aspects of Anglo-Saxon and Viking life in early mediæval England.
With Wychwood you can...
— Learn how to fight with replica Dark Age weapons
— Make your own costume and kit using simple techniques based on up-to-date historical evidence
— Indulge in eight course feasts featuring ancient cookery and revelries... washed down with copious amounts of ale and mead
— Take part in shows of up to 2000 people - or be hired to star on the silver screen as a film extra, or to pose for photographs destined for high-profile history books
— Visit schools and museums to teach the public about Dark Age life and warfare
— Take part in a range of social events, including... pub invasions, video evenings, trips to historic sites and celebrations of the Celtic festivals with fire and song
Interested? Have a look around our site to find out more about what we do. More detailed information about the period we reenact and our activities can be found on our wiki, which acts as our shared knowledge base for anything and everything Dark Age or reenactment related. It is also home to our termcard. If you would like to find out more about our activities, or enquire about hiring us, please contact us or come along to a battle practice. Your first practice is free, with no obligation to join. Thereafter, membership costs £15 per year.
You can also
find us on Facebook