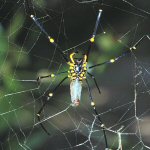 N. maculata
Dr. Ing. Cedric Dicko
Cedric Dicko obtained his 'Diplome d'Ingenieur from the Ecole Nationale Supérieure de Chimie de Montpellier' (ENSCM), France in 1999 and his Ph.D. in Natural Sciences from Oxford University, Oxford, U.K. in 2004. Dr. Dicko was a Junior Research Fellow at St Edmund Hall and an EPSRC Life Science Interface Fellow in the Zoology Dept. at Oxford University until 2011.
His long term research interests are in Biophysical Chemistry and the understanding of structural proteins.
His main area of research focuses on the application of biospectroscopy to investigate self-assembly and structure function relationship in silk materials. His work focuses on the importance of 'microstructures' in biological organisation. He is interested in the application of optical techniques, such as polarized synchrotron radiation, quantitative polarisation microscopy, Fourier transform infrared spectroscopy to describe how organisation at the microscopic level dramatically affect and determine macroscopic properties of biological systems.
Recent News
November 2019
Prof. Fritz Vollrath and colleagues from the Fudan University in China are widely covered in the news for their discovery of a means to produce fake Rhino horns using horse hair. Hopes are that this product may undermine the illegal market for rhino horn, and demistify the properties of rhino horn. View Here