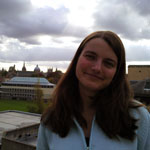 Imke Greving
Imke Greving (Née: Diddens)

Imke did her undergraduate in Physics at Kiel University in Germany. In summer 2006 she had a summer student project at ESRF and worked on inelastic X-ray scattering on cellulose fibres at the beamline ID28 [3]. Within her diploma thesis project in the biological composite materials group of Prof. Dr. Martin Müller she studied the influence of humidity on the mechanical properties of silk. The particular interest was focused on the interplay between crystalline and amorphous phase by using wide angle X-ray diffraction [1,2] with in situ tensile tests at HASYLAB (Hamburger Synchrotron Strahlungslabor, Germany) and ESRF (European Synchrotron Research Facility, Grenoble, France).


Since February 2008 she is a D.Phil. student in our working group. She got an EPSRC next generation user student ship which is closely related to the ISIS and Diamond Facilities. The aim of her project is to study the structure of precursor silk using a multiple instrumental approach. The main techniques are neutron and X-ray scattering, polarized spectroscopy (Infrared, UV) and thermal analysis (DMA).

Imke is a member of the Deutsche Physikalische Gesellschaft (DPG), the Institute of Physics (IOP) and the Oxford Polymer Network. Her project is closely related to the neutron facility ISIS, where she holds visiting student status.
Recent News
November 2019
Prof. Fritz Vollrath and colleagues from the Fudan University in China are widely covered in the news for their discovery of a means to produce fake Rhino horns using horse hair. Hopes are that this product may undermine the illegal market for rhino horn, and demistify the properties of rhino horn. View Here