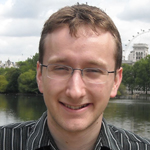 Maxime Boulet-Audet

Maxime Boulet-Audet
Maxime's work is to investigate why and how silk proteins have been optimised for flow processing. His multidisciplinary project introduced novel integrated rheo-spectroscopic tools to study silk protein structures in solution dynamically. Specifically, he coupled infrared spectroscopy and small angle x-ray scattering to rheology to monitor the development of silk's multiscale hierarchical structures. His works has been the object of 6 publications.

Common Chinese silkworm (Bombyx mori) on the attenuated total reflectance accessory for infrared spectroscopy.
Since September 2009, he is pursuing a PhD at the University of Oxford, Merton College, within the Oxford Silk Group in the department of Zoology. His project is supported by a NSERC Doctorate Scholarship from the Canadian government and by an EPSRC Next Generation Users Studentship from the UK government.
From 2007 to 2009, Maxime did a MSc in Physical Chemistry at the Université Laval, under the supervision of Prof. Michel Pézolet. His degree was supported by a FQRNT masters scholarship from the government of Québec. His research project was to study single silk fibres using Attenuated Total Reflection infrared spectroscopy. To gain a deeper understanding of the results, he did a traineeship with Thierry Buffeteau at the Institut des Sciences Moléculaires of the Université Bordeaux acquiring the expertise required to perform spectral simulations.
From 2004 to 2007, he obtained his BSc in Chemistry at the Université Laval in Québec City. During his degree, Maxime worked as an undergraduate research assistant. His project was the study the interaction of Lactoferricin with synthetic membrane at the air/water interface using Brewster angle microscopy and Polarisation Modulated IR Reflectance Absorbance Spectroscopy.
Recent News
November 2019
Prof. Fritz Vollrath and colleagues from the Fudan University in China are widely covered in the news for their discovery of a means to produce fake Rhino horns using horse hair. Hopes are that this product may undermine the illegal market for rhino horn, and demistify the properties of rhino horn. View Here