---
Victorian Periodicals Hypertext Project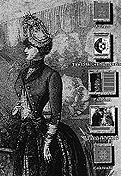 Contributions from
Margaret Beetham, Amanda Bowens, Danielle Fuller, Lynette Hunter, Farath Arshad, Colin Parrott, Peter Ward
Edited by
Lorna Hughes and Stuart Lee
Oxford: CTI Centre for Textual Studies, 1994. Pp.iv + 50. ISBN 0 9523301 1 3.
This is the first in an occasional series of CTI publications. This series will include a number of monographs on specialist applications on computing in the teaching of the humanities.
The Victorian Periodicals Hypertext Project is a highly successful example of a collaborative and interdisciplinary initiative using hypermedia. The project was based at the Faculty of English, Leeds University, and brought in other participants from the University's Information Modelling Programme (IMP) department, as well as Leeds Polytechnic and Manchester Metropolitan University.
This project aimed to introduce students to Victorian periodicals within a hypermedia context and attracted a great deal of interest. This monograph by the developers describes the project, its background, funding, and evaluation, in detail. We hope this proves to be a useful reference document for anyone considering embarking on a similar project using hypermedia in teaching.
Contents
Editors' Introduction
Authors' Preface
The view from the humanities
Issues: why we did it
Stage one: making connections with computer experts and funding
Stage 2: beginning the research
Stage three: research assistance
Stage four: preparing for the first demonstration
Stage five: elaborating the multimedia hypertext
Stage six: dealing with the problems
Stage seven: evaluation by experts
Stage eight: student use
Undergraduate students as authors
Definition of the task
The progress of the project
Conclusion
Map of the final structure
Flowchart
Hints for student users on the women's magazine project
Starting out
Searching for material
Records, maps, and structure
Scanning
Chunking text
Screens
The view from the Information Modelling Programme (IMP)
Introduction
Terminology
The central issues and questions
A multidisciplinary approach
The aims of the VPHT project
The pilot project
Implementation
Technical details of the development
Discussion
Glossary of terms
Diagram I: outline of the Victoria Periodical projects
Diagram II: flow of information from domain experts to target users
Technical annex
Development and delivery platforms and applications/system development environments
'Future proofing', genericity, and interoperability
User manual: instructions for using the system
The system in general
Mouse
Hypertext
The socializing of context: methodolgies for hypertext
Grounds for discussion
Storytelling: hypertext and the printed book
Hypertext narratives: case studies
Bibliography
Humanities reference bibliography
Victorian Periodicals contents bibliography
Technical bibliography
Copies can be ordered from Dr Michael Fraser, CTI Centre for Textual Studies at a cost of £10.00 (+ postage & packing per copy: £1.00 in UK, £2.00 in Europe, £3.00 rest of world). Please make cheques payable to, 'Oxford University Computing Services' (invoices cannot be issued).
---
This document last modified: 30 March 1999
The URL of this document is http://info.ox.ac.uk/ctitext/publish/occas/victoria.html