British Relay Champions 2013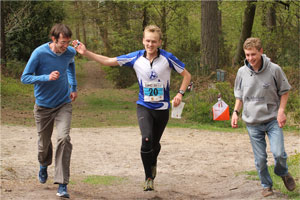 We had some great performances this weekend at the British Orienteering Championships, culminating in a fantastic win for the OUOC team of Ben Stevens, Jamie Parkinson and Peter Hodkinson on the Men's Premier Relay. The first time OUOC has won in 34 years.
Ben Stevens ran a strong first leg coming in third on the slightly longer gaffle with a time of 38:51 only 39 seconds behind the leader. Alan Cherry was also running first leg for Interløpers, the favourites to win, but in an attempt to make up for a small error on the first control he followed a group into a parallel feature and mispunched at the third control - bad luck Alan. This left the field fairly open and OUOC in with a good chance of winning. Jamie put in a great performance on the second leg to come back in the lead 15 seconds in front of the next rival NOC in a time of 39:19. The final leg was ran by Peter, fresh from a dodge-ball tournament the day before, who put in another top run to finish 3 minutes ahead of second place rivals ShUOC, finishing in a time of 33:45 on a slightly shorter gaffle and with the fastest individual time on the men's premier relay.
On the Saturday there were some good performance in the individual championships too. On the M21 Elite course Ben Stevens came 7th in a time of 106:20 and Alan Cherry was only 21 seconds behind in 8th. Ben Crompton also did well coming 15th on the Long Difficult course. Full results from the weekend can be found here
---
---
Last Updated: Friday, 27-Sep-2019 19:33:45 BST
©Oxford University Orienteering Club