Newsletters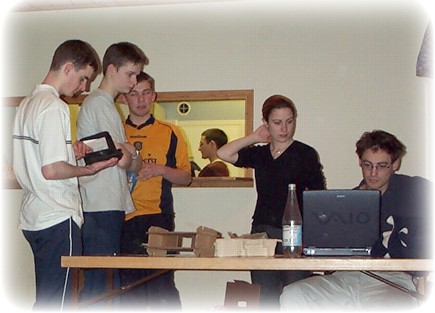 Most of the Newsletters and Public Documents published by the club over the last few years are below. Due to the increasing use of email to communicate with the club members, the number of newsletters in recent years has decreased.
Right: The Secretary keeps a watchful eye as the President gets down to the 2002 newsletter, with subeditors looking on. Or not...
2015
2009
2008
2007
2006
2005
2004
2003
2002
2001
2000
1999
1998
1997
1996
1995
1994
Upon this beer mat is inscribed the names of the winners of two of the club's two trophies, traditionally presented during the Annual Dinner - the Diced Carrot Award and the Simon Beck Memorial Trophy.
---
Last Updated: Friday, 14-Jul-2023 00:00:43 BST
©Oxford University Orienteering Club