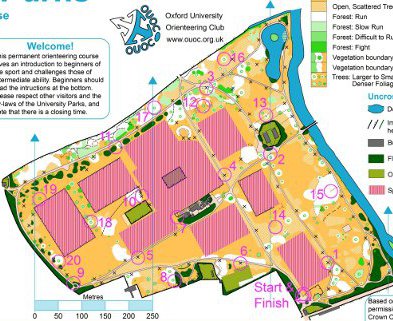 Part of the POC map.
Start/Finish Location:
Oxford University Parks South Entrance,
here
.
Total Number of Controls:
20 plus start/finish
Courses:
Easy (1.4km, 6 controls), Medium (1.8km, 9 Controls), Hard (2.0km, 13 controls)
Map:
Download PDF
. A4 orienteering-style map, scale 1:5000, mapped to sprint standard with lots of tree detail.
Terrain:
Flat grassy well-maintained park with lots of individual trees.
Time Yourself with a Smatphone:
See
SnapNav
for more details.
Last Updated:
July-2013
Suitable For:
Complete beginners and intermediate orienteers, children and adults. Good sprint training for more experienced orienteers.
Any Enquiries:
Contact our
secretary
.
Acknowledgements
Thanks are due to Matt Dillingham (Project Engineer, and President 2002-3) for having the idea, leading the project and constructing the marker posts, Ed Catmur (Information Officer 2002-3) for surveying and revising the map, members of OUOC for siting the marker posts,
Jesus Orienteering Klubb
(JOK) for providing the inital funding for the marker posts, and the Curators of the University Parks for granting permission.
Also thanks to Ian Webb for updating the map and the University Parks ground staff for helping to update the course in July 2013.