Oxford University wins the 2015 Varsity Match
Eager but nervous teams from Oxford and Cambridge Universities converged on the Hurlingham Club for The Annual Varsity Match. Oxford had a good spread of abilities ranging from 4.5 handicap up to this year's new crop of recruits, now playing off 10-18 after just 7 weeks training. The match however is played level-advanced, hence it depended on the Cambridge team's abilities. Unfortunately Cambridge's top player, Will Gee was wired from the event by a 'diary problem'. Seasoned Varsity player Cesar Miranda-Reyes was Cambridge's Captain and fielded Oxford-export Luke Valori, who started his Varsity career playing for Oxford in 2010. The remainder of the Cambridge team were dark horses with mostly unknown abilities.
Longstanding Varsity Referee Richard Hilditch was unavailable so Ian Plummer stood in as his deputy. The Hurlingham lawns were delightful, playing at ~10 plummers which was faster than both teams were used to; the hoops were however sympathetic. We were also blessed with excellent weather.
Morning Play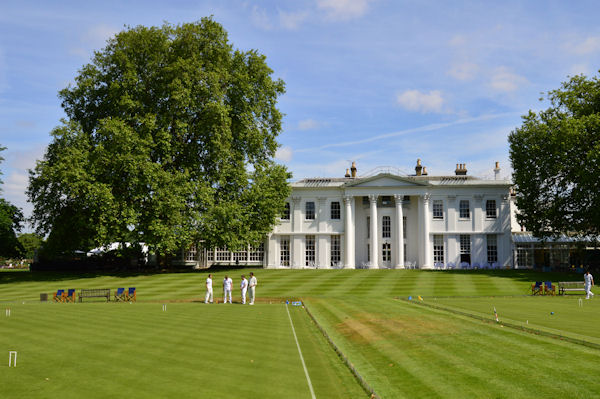 The start of the doubles.Richard Sykes & Daniel Gott (O) Tony Dent and Luke Valori (C). (Click for large image). Photo: Theo Silkstone-Carter
Three level-advanced doubles were played in the morning with the short time limit of 2½ hrs - to accommodate the catering arrangements. Only one game however went to time.
The play was very tentative at the start with the players gradually building up their confidence. The Captains paired their teams 1:6, 2:5, 3:4 and there was much nursing of the weaker players around the courts.
The top seeds and their partners were most efficient at making hoops. Cesar (C) got around to 3-back in two attempts. Martin Lester (O) guided novice Alex Bishop efficiently to 2-back then 4-back, and followed him there soon after. Francis Wragg (C) got started but not in time to stop Oxford claiming the first game +15.
The second seed game however was not going Oxford's way. Richard Sykes and Dan Gott (O) never seemed to get their confidence fully and were behind for most of the match. Luke used his Varsity experience to guide novice partner Tony Dent (C) to a narrow victory: +4OT.
Oxford's middle pair, Jordan Waters and Mark van Loon, were the stronger on paper playing against Cambridge's Matt Hitchens and Adam Barker. The game started slowly with both sides scrabbling a few hoops. Adam made his way to 4-back. Soon however Mark was around 4-back with a loose diagonal spread. Cambridge countered by hitting in but got stuck on 3. Jordan (O) then went to peg with a gesture at a vertical spread. The lift again was hit. After more scrabbling Mark got to rover and with some minutes to spare Jordan pegged out: +14 to Oxford.
Oxford

Cambridge

Martin Lester
Alex Bishop

+15

Cesar Miranda-Reyes
Francis Wragg

Richard Sykes
Dan Gott

+4ot

Luke Valori
Tony Dent

Jordan Waters
Mark van Loon

+14

Matt Hitchens
Adam Barker
Lunch
The teams adjourned to lunch kindly provided by our Hurlingham sponsors.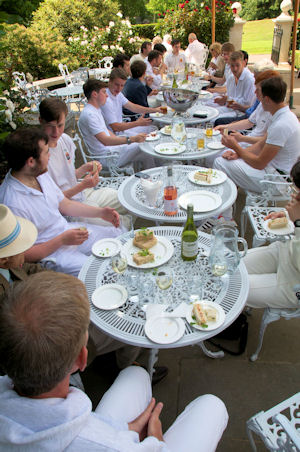 Oxford, Cambridge and Hurlingham members mix over lunch. (Click for large image). Photo: Dave Spicer.
We were delighted to be joined by Bevis Sanford who is still supporting and enjoying the Varsity at the age of 97. He spoke to many of the players and shared anecdotes spanning some 80 years. At lunch he was joined by two of the other sponsors of the event, Hugh Carlisle and John Culhane. John welcomed the players and hoped they would be inspired to go on to great things.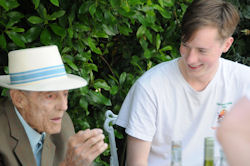 Bevis Sanford. Around 80 years does not separate croquet enthusiasts. Click for large image. Photo: Dave Spicer.
The captains thanked our Hurlingham sponsors for their kindness and the excellent facilities. Interestingly neither captain was speaking in their native language: Mark (O) being Dutch and Cesar (C) Mexican!
Afternoon Play
The afternoon saw six level-advanced singles with standard time limits. Both teams made substitutions - James Brind and Sam Matthew filling the Cambridge 5 & 6 positions and Theo Silkstone-Carter at 6 for Oxford.
Play was more confident and relaxed in the afternoon - possibly because the players were familiar with the conditions and probably because of the alcoholic hospitality over lunch. It is probably the latter which possibly clouds the exact detail of all the afternoon matches in my report. As well as being the Substitute Referee I agreed to substitute for the traditional Varsity Reporter, Simon Hathrell, who unfortunately was unable to make the event this year.
Oxford won five of the six singles with Luke winning again, after his morning success in the doubles, for Cambridge.
| | | | | | |
| --- | --- | --- | --- | --- | --- |
| Oxford | | | | | Cambridge |
| Martin Lester | | +18 | | | Cesar Miranda-Reyes |
| Richard Sykes | | | +20 | | Luke Valori |
| Jordan Waters | | +9 | | | Matt Hitchens |
| Mark van Loon | | +25 | | | Adam Barker |
| Dan Gott | | +19 | | | James Brind |
| Theo Silkstone-Carter | | +1ot | | | Sam Matthew |
Hence the final result was Oxford 7, Cambridge 2. This was the 11th consecutive win for Oxford, but things would have been very different if Cambridge had been able to call on their star player, Will Gee (-1).
The Varsity match has a very friendly atmosphere, with both teams enjoying the rivalry on court but getting on very well after the games. The delight for me is seeing the lawns full of young croquet enthusiasts who have so much potential and so much to offer the sport.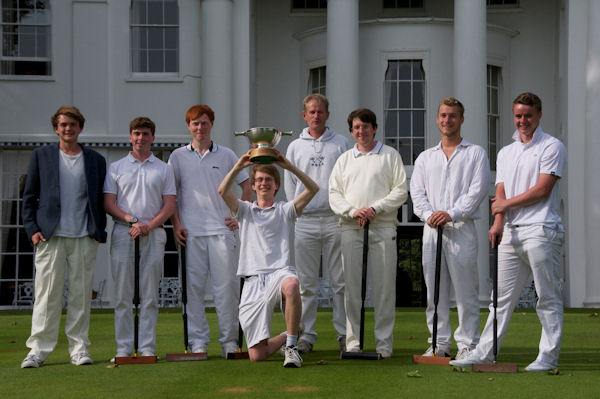 Oxford win the 2015 Varsity Match. Richard Sykes, Alex Bishop, Jordan Waters, Mark van Loon (Captain), Ian Plummer (Referee) Martin Lester, Theo Silkstone-Carter, Daniel Gott. Photo: Dave Spicer
For many of the players the Varsity match will be the pinnacle of their university sporting careers. Many thanks to The Hurlingham Club and the sponsors of the Varsity Match for making it possible.
Shot of the Match
My award for 'shot of the match' goes to novice Tony Dent (C), who arriving 5 foot and 45º away from hoop 1 bent down to play a jump shot holding the mallet right near the head. "Madness" opined Learned Counsel to my right; I agreed. The shot was a corker - right between the wires at the top of the hoop. "Good shot!"