How to Play
This page contains information about how to learn the basics of the game, where to go to see the OUACC demonstration match, and how to receive free OUACC coaching. For information about suitable equipment to buy for ordinary college and personal use, and details of a special Oxford University student discount follow this link.
Learning the game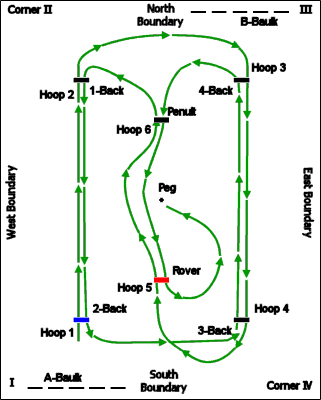 To find information on the web about learning the game and tactics of croquet OUACC recommends the website the book "Know the Game Croquet". This should be available in all good college libraries!! For beginners we recommend looking at the simplified laws article on Dr Ian Plummer's Oxford Croquet website. This website houses a huge number of articles wherein you can find out just about anything you want to know regarding croquet. We strongly recommend checking out the coaching section for those eager to improve their tactics.
The Croquet Association site also has a basic set of laws and a full set of laws. The full laws are intricate and it is difficult to get the gist of the game from them alone. However, they will resolve almost all disputes!
Coaching
At the start of Trinity term the Oxford University Association Croquet Club offers a Demonstration Match and Free Coaching evenings during the first four weeks of Trinity term:
Demonstration Match - 2021 Postponed
at the OUACC Lawns in the University Parks
Free Coaching - 2021 Postponed
at the OUACC Lawns in the University Parks.
Due to Covid-19 regulations on group gatherings, we are unfortunately unable to offer the full beginner course this year. If you would be intersted in learning how to play, please contact a member of the committee and we will try arrange a small group session. Depending on availablity, we may not be able to offer sessions for all those who are interested but will do our best.
All required equipment can be supplied, however you are welcome to bring your mallet if you have one.
Joining OUACC
The best way to learn croquet is through playing it, either with friends, or through playing real matches. Membership of OUACC provides access to the best lawns in Oxford, use of Club equipment, and entry into both internal Club competitions and the many inter-club fixtures that take place during the season.
Joining the Croquet Association
Joining the Croquet Association, the national governing body, entitles you to play in the dozens of tournaments that are held at clubs all around the country. Full Student membership of the CA is only £15. For more details contact the manager of the CA, by telephone 01242 242318 (during office hours) or email caoffice@croquet.org.uk. Club members playing competitively can become 'Standard Croquet Association Members' - the OUACC has a small number of free memberships. Please contact the OUACC Secretary.